TMG – At the 17th ITE HCMC 2023, CEO Tran Trong Kien and experts emphasized the importance of proper investment and promotion strategies among suitable ones to attract international tourists to Vietnam. 
Yesterday September 7, Mr. Tran Trong Kien, Chairman of Vietnam Tourism Advisory Board (TAB) cum Chairman & CEO of Thien Minh Group (TMG), attended the Seminar on Tourism and Hospitality in Ho Chi Minh City (HCMC). With the participation of many leading experts, businesses, and organisations, this is one of the tourism seminar series of International Travel Expo HCMC 2023 (ITE HCMC) held under the theme "Connectivity, Growth, Sustainability" by Vietnam National Administration of Tourism (VNAT) and Ho Chi Minh City People's Committee, Ministry of Culture, Sports and Tourism.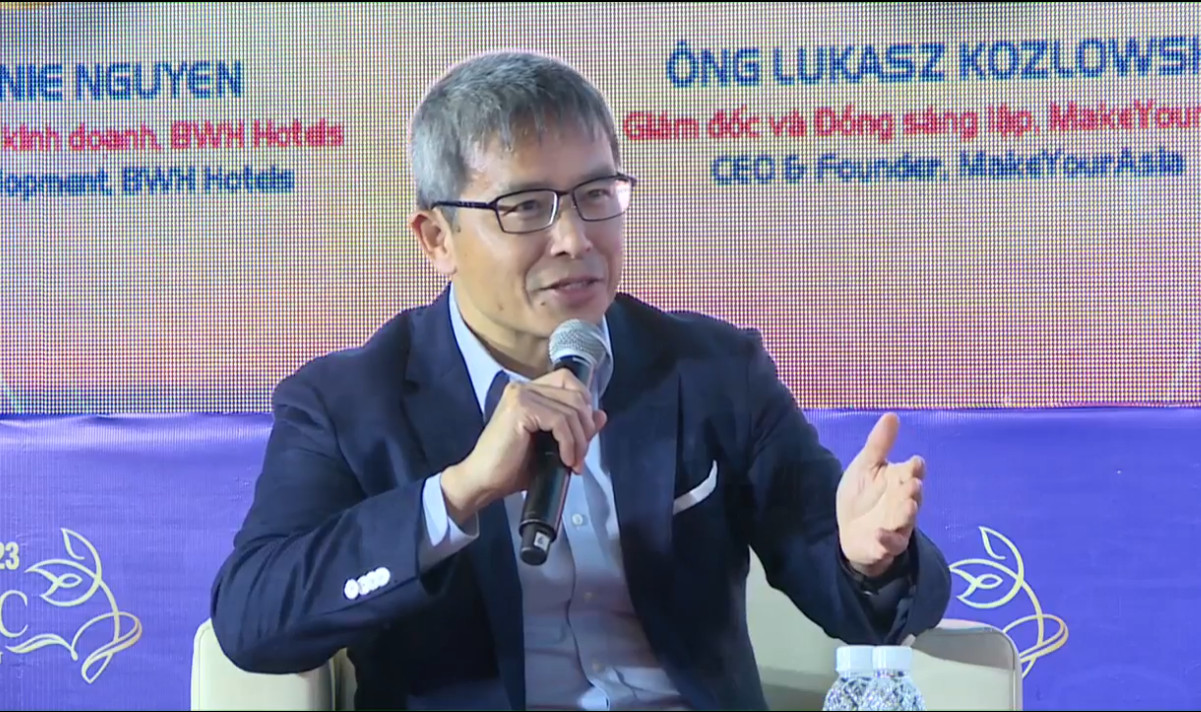 At the seminar, Mr. Tran Trong Kien gave an overview of strategies for goals and visions for Vietnam tourism to 2030. He also introduced notable TAB activities in domestic and global markets in an effort to promote the image of Vietnam worldwide.
In the panel discussion "Promote Vietnam Tourism to International Market", Mr. Tran Trong Kien discussed with experts the importance of proper strategies in investment, PR, marketing, etc. "One of the factors preventing Vietnam from making crucial breakthroughs is the shortage of investment in tourism promotion. Our investment level is incomparable to other regional countries which finance largely in tourism," Mr. Kien emphasized.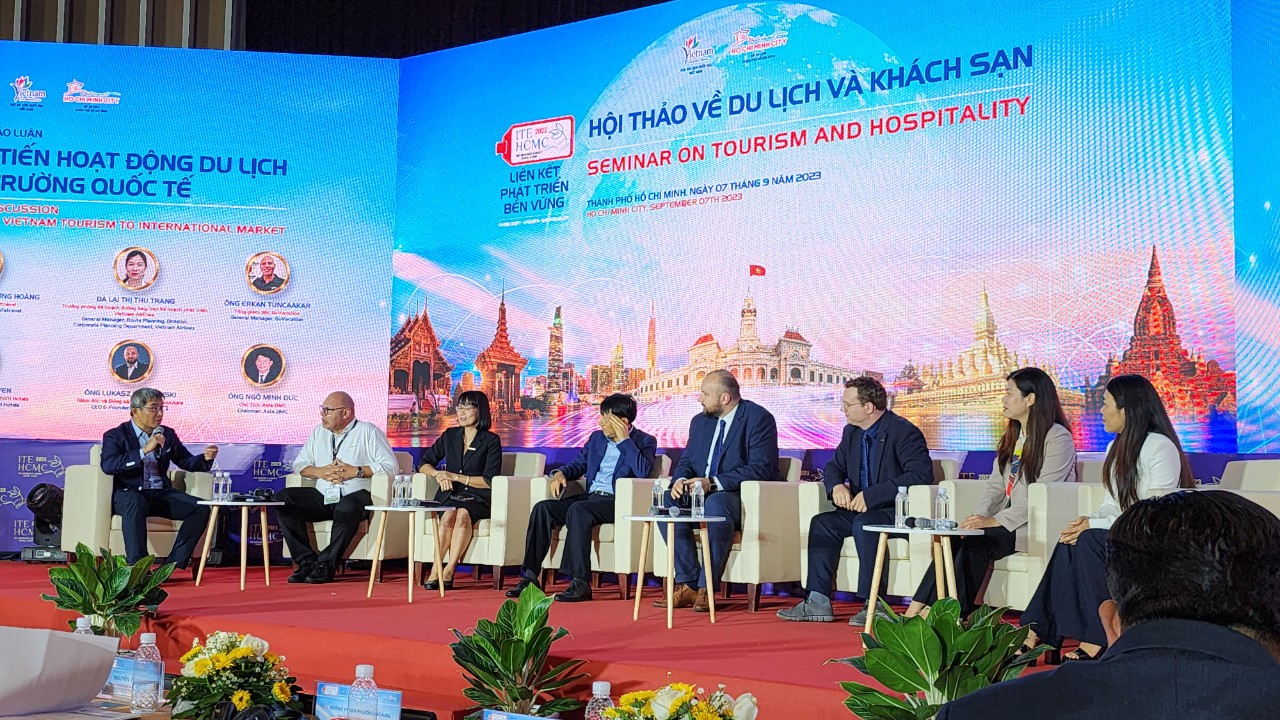 In addition, there is also a need to focus on environmental protection and human resources training, boosting Vietnam tourism and ensuring sustainable development in the future. That is also what TMG strives for throughout these years to develop sustainably and be associated with the community. 
Boasting many tourism products stretching from North to South, TMG always makes great efforts to satisfy tourists with exceptional quality and heartfelt service. In addition, TMG has focused on practical measures to protect the environment and grow sustainably such as utilizing alternatives, using no plastic, recycling waste properly, etc. They were applied at all member hotels, resorts, and cruises, notably the 5-star resort TUI BLUE Nam Hoi An, the Indochine-style Victoria hotels & resorts, the dynamic ÊMM hotels, high-class Emeraude Classic Cruises and Victoria Mekong Cruises, etc., promising to be the highlights in every itinerary of tourists. 
As Vietnam's largest and most established annual international travel trade event, the 17th ITE HCMC 2023 is held under the theme "Connectivity, Growth, Sustainability" to enhance exchanges, tourism promotion, and business opportunities for domestic and foreign companies. ITE HCMC 2023 is expected to attract over 400 exhibiting companies and 250 high-level buyers from over 40 countries and territories, together with more than 25,000 visitors, all gathering in one place, over the three days.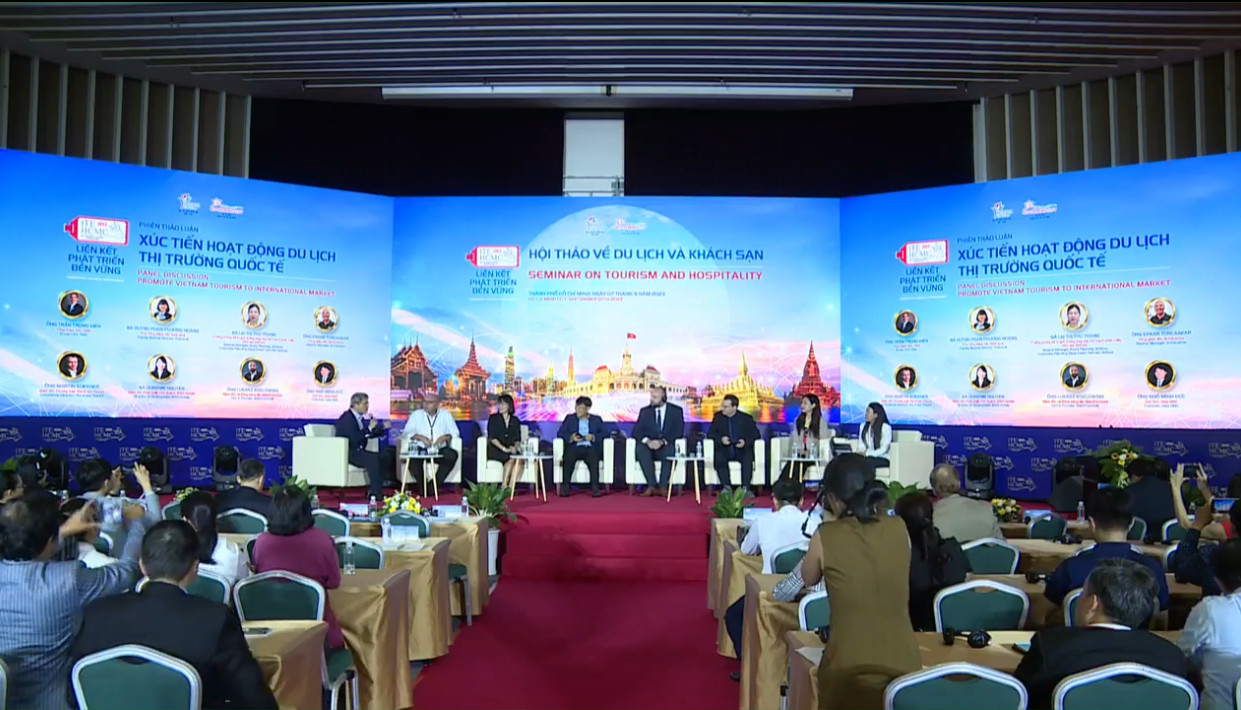 Established in 1994, TMG has grown from a company with just three employees to an enterprise with more than 2,500 employees worldwide. Thien Minh is now Asia's leading package travel provider, founded on the mission of always putting our clients front and center. With four areas of operation – Destination Management, Hospitality, Online, and Aviation – TMG is the ideal host for distinctive journeys featuring truly memorable travel experiences.