TMG – TAB Chairman Tran Trong Kien urges the UK Emirates sales team to keep promoting Vietnam to international tourists during his presentation about the beauty of Vietnam as a fantastic destination and the latest developments in the country since the pandemic.  
Mr. Tran Trong Kien, chairman of the Tourism Advisory Board Vietnam, joined a virtual Emirates National Sales Meeting on October 20 to present Vietnam as an outstanding destination for international tourists. At the online event for which 20 salespeople from the UK Emirates sales team joined, he also provided the latest developments in Vietnam since the country opened its border on May 15 after the pandemic.
According to Mr. Tran Trong Kien, there are four reasons why Vietnam is the best destination for tourists to come and experience their unforgettable vacations. "Vietnam has been ranked one of the safest countries in the world for travelers. Vietnam is a vibrant destination with many fun activities and attracts domestic and foreign tourists. Vietnam also is one of the happiest countries in Asia. And compared to other destinations in the same Asia region, Vietnam is considered a destination with surprisingly low prices,' said Mr. Tran Trong Kien.
From North to South, there are so many tourist attractions that travelers can visit and simultaneously experience the local life and mesmerizing landscapes. In Hanoi, travelers can explore the vibrant capital or go to Halong Bay, heading to Sapa, Mai Chau, Ninh Binh, and Ha Giang to discover the unique north. Meanwhile, tourists can always explore the sleepless southern city in HCMC or go to Binh Thuan, Con Dao, Phu Quoc Islands, Can Tho, and Chau Doc to learn more about the great south.
Central Vietnam also stands out in terms of tourist attractions. According to Mr. Tran Trong Kien, travelers can try Da Nang, Hoi An, Nha Trang, Hue, Quang Binh, and Da Lat.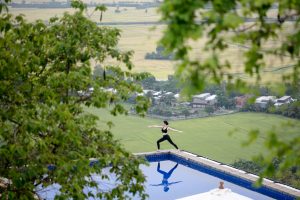 "We have diverse culture, amazing nature, and beautiful beaches from North to South all year around. So the best time to visit Vietnam is whenever you travel to the country. Now that there are no longer restrictions on entering Vietnam and visa policies are flexible enough, we're yearning to welcome you to our beautiful Vietnam' stressed Mr. Tran Trong Kien.
At the end of the virtual meeting, Mr. Tran Trong Kien sincerely thanked the Emirates for keeping operating flights to Hanoi and HCMC from Dubai and, by doing so, opening more chances for tourists to experience Vietnam. Before ending the virtual meeting, Mr. Tran Trong Kien also awarded prizes during a fun Q&A session. They were vouchers equalling vacations to have a taste of Vietnam firsthand, including Hai Au Aviation scenic seaplane flights over Halong Bay and stays at Victoria Hoi An Beach Resort & Spa.
The Tourism Advisory Board (TAB) represents Vietnam's leading tourism stakeholders and is in a public-private partnership with the Vietnam National Administration of Tourism (VNAT). TAB comprises representatives from a broad base of industry leaders in Vietnam's travel and tourism sector. The mission of TAB is to increase Vietnam's competitive advantage as a sustainable tourism and travel destination by leveraging the country's public and private resources and creating a comprehensive industrial strategy.
TAB's sponsors are VinGroup, BIM Group, CEO Group, TMG, and Vietnam Airlines – each contributing to a privately managed fund that promotes tourism in Vietnam.