Luxembourg / Hanoi – Luxaviation Group, one of the largest business aircraft and helicopter operators worldwide headquartered in Luxembourg, has signed an agreement to build a strategic relationship with Thien Minh Group (TMG) and especially with its subsidiary Hai Au Aviation (HAA), Vietnam's first seaplane service for tourism, also the largest business jet operator in the country. The partnership will see the two respective market leaders exchange expertise in aviation, travel, and hospitality services.
This partnership is the first step towards potential future collaborations between the two companies. Luxaviation Group is committed to supporting TMG, its subsidiary HAA, and other TMG's subsidiaries with operational capability, networks, and relationships with aviation authorities, while TMG and its subsidiaries are committed to supporting Luxaviation with IT, digital marketing, and flight operations.
The agreement also outlines Luxaviation's intention to assist HAA in selling aircraft block hours through their own distribution channels and to support TMG in establishing trusting relationships with key financial institutions and decision-makers. Furthermore, Luxaviation will consider utilizing TMG and subsidiaries' services given the latter's experience in travel, hospitality, online booking, and aviation.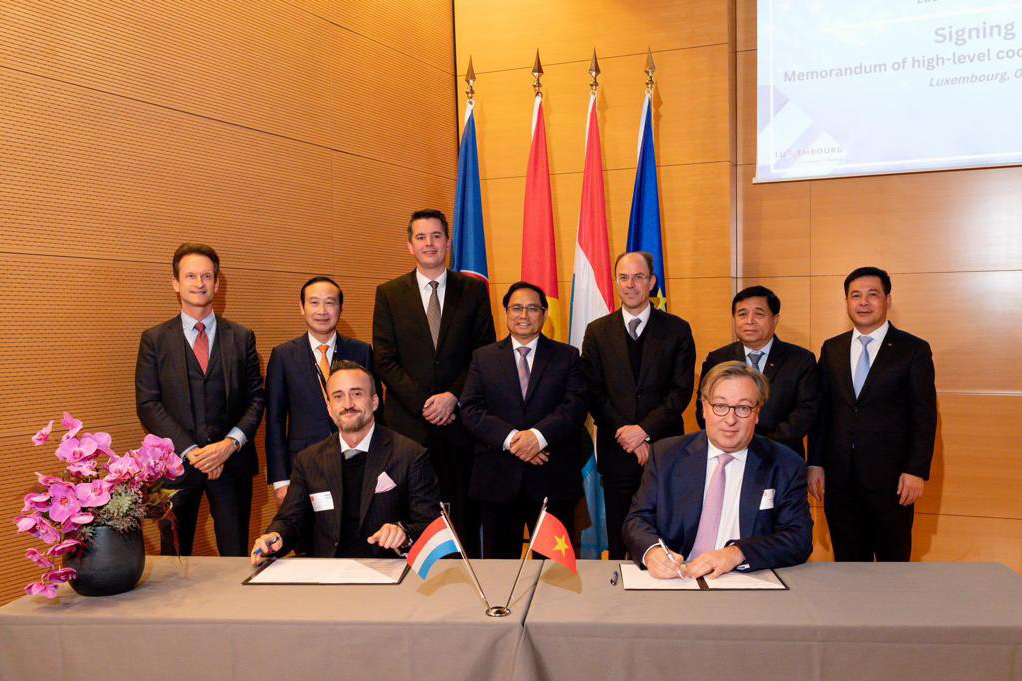 Patrick Hansen, CEO of Luxaviation Group, says: "We are very excited about this future collaboration, as it underlines our strategy to work together with local partners to accelerate our geographic expansion. We are impressed by TMG's extensive experience in the travel and hospitality sector, and we are certain that we can continue to grow together in this market. TMG's expertise will be an incredible asset for Luxaviation Group as we intend to develop our global footprint."
Tran Trong Kien, CEO of Thien Minh Group, states: "This partnership brings together two market leaders in the aviation sector, and combines their expertise to expand Hai Au Aviation's offering. The Thien Minh Group has been working in the travel and hospitality sector for almost three decades and is delighted at the prospect of working with a fellow established group such as Luxaviation. We welcome this agreement and look forward to continuing to develop our partnership in the future."
ENDS
About the Luxaviation Group
Since 1964, the Luxaviation Group has been tailoring private travel experiences for a global clientele.  Founded by André Ganshof van der Meersch, a Belgian entrepreneur, pilot and nobleman, our fifty-plus-year history still proudly takes flight with our commitment to creating excellence through visionary, pioneering, and innovative private aviation experiences.
Luxaviation Group is comprised of top-of-the-line aviation brands: Luxaviation, Luxaviation Helicopters, Starspeed, and ExecuJet. Our more than 1300 employees work in an around-the-clock operation on five continents, delivering stellar service in the areas of aircraft management for private and commercial aircraft, private air charter services, and the management and operation of VIP passenger terminals in 24 airports around the globe.
Ever innovative in spirit, the group has leveraged its global perspective, carrying the value of its founder into its transformation as the world's premier luxury experience travel company. Through the development of bespoke luxury travel packages in private jets, various ventures, fine wines, and our very own Luxaviation Client Service Training Academy, we are honoured to evolve our brand in keeping with the ever-changing luxury travel landscape.
Further information: www.luxaviation.com
INSTAGRAM : @luxaviationgroup
FACEBOOK : @luxaviation
LINKEDIN : @Luxaviation Group
TWITTER : @Luxaviation
YOUTUBE : @Luxaviation Group
About Thien Minh Group & Hai Au Aviation
From its humble beginning in 1994, Thien Minh Group (TMG) has grown from three employees to over 2,500 worldwide. Thien Minh Group is now Asia's leading customer-centric travel group providing all-inclusive travel services. Since 2010, the number of tour passengers each year has doubled while the number of room nights sold has jumped by 650 percent.
With four operational areas, including Destination Management, Hospitality, Online, and Aviation, Thien Minh Group is an indispensable piece for journeys full of exceptional experiences for travelers.
TMG has continued its tradition of creating new and bold travel experiences for clients with the introduction of Hai Au Aviation, Vietnam's first seaplane service for tourism.
Established in 2014, Hai Au Aviation is proud to be a pioneer in the field of general aviation in Vietnam while our commercial seaplane service provides guests with unique travel and sightseeing experiences in some of the country's premier destinations. The Cessna Grand Caravan 208B-EX seaplane is also the ideal choice for survey flights. Starting in 2020, Hai Au Aviation has expanded our services to include private aircraft management and operation, offering jet service.
In almost a decade of operation, Hai Au Aviation is proud to be Vietnam's leading airline in 3 main areas: seaplane tourism, survey flights, and private jets. Hai Au Aviation's vision is to become Asia's leading air service provider with a mission to connect guests to destinations through unforgettable travel experiences; to provide a range of top-quality services designed to meet the needs of customers.
Website: www.tmgroup.vn & https://www.seaplanes.vn/en/
Instagram: https://www.instagram.com/thienminhgroup_tmg/
Fanpage: https://www.facebook.com/tmgroup.vn
LinkedIn: https://www.linkedin.com/company/tmg—thien-minh-group/
YouTube: https://www.youtube.com/@TMGInspiringPeople/featured
TikTok: https://www.tiktok.com/@tmg_thienminhgroup
Media Contacts Luxaviation Group:
Juliane Thiessen                                                          Pascale Kauffman
Luxaviation Group                                                       Apollo Strategists
T +41 76 356 8251                                                      T +352 621 889 403
[email protected]                              [email protected]
Media Contacts Thien Minh Group
Phạm Anh Minh
PR Team Leader
M: +84 393 608 010