TMG – Half a year living in Hanoi and Zachary Sewell is all about Vietnam's capital. He went from a Briton handsome young man partying all night long at bars in England to some Indochina guy going for a Hanoi FC football match.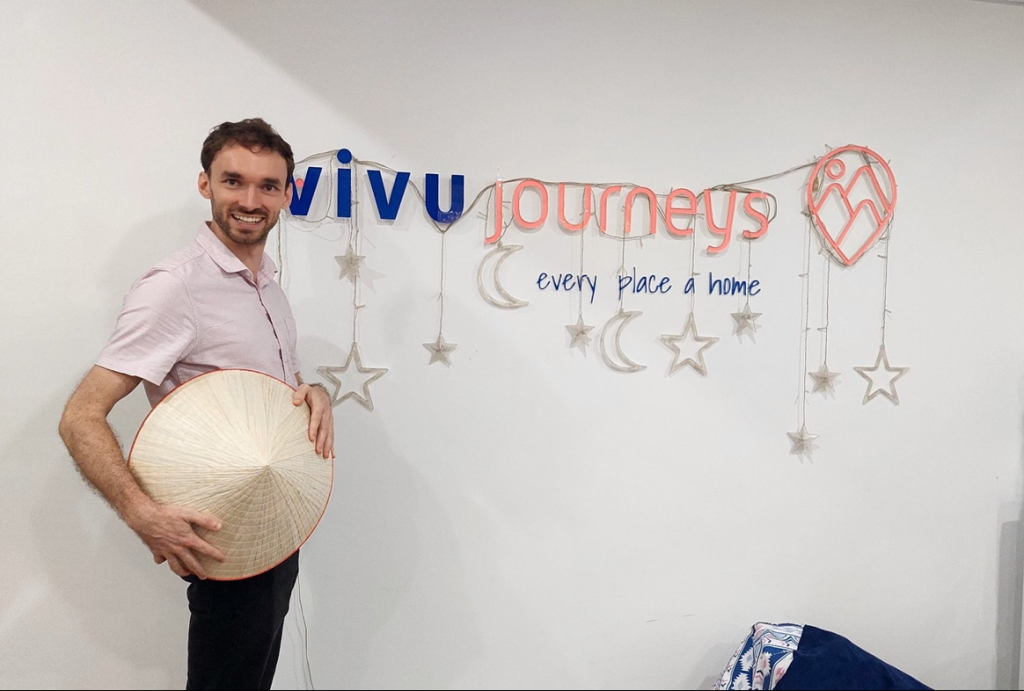 Mr. Zachary Sewell is now working as the Indochina Product Manager at Vivu Journeys, a member of Thien Minh Group (TMG). Talking briefly about Hanoi, Mr. Sewell didn't know where to begin when sharing the plethora of fascinating experiences he's encountered in Hanoi so far.
1. How many times have you been to Vietnam or Hanoi? 
I have lived in Hanoi for six months now, and I'm loving it so far!
2. What tourism activities have you experienced in Hanoi and Vietnam? 
Too many to count! I love exploring this country and trying new things. I'm fortunate that I work in tourism and get to share my experiences with others and love to find new ways of connecting locals with travellers. From hiking in Mai Chau and having lunch with a local family, investigating the Ky Anh tunnels in Quang Nam, or jumping on a Victoria Mekong Cruise there's a lot to see and do! 
3. What is your take on Hanoi's night tourism? Is it enough for you?
Hanoi has a lot to offer and plenty of secrets for the intrepid explorer! In the evening there are so many bars, restaurants, live music venues and other evening hotspots to go to. I also enjoy going to watch Hanoi FC! 
I love to explore the cuisine of a new place as well and you can normally find me going on street food tours, or bar hopping in a new place to find the best places to recommend travellers to come and soak up the atmosphere. 
4. Were there any inconveniences you used to experience with tourism service in Hanoi or Vietnam at night?
Sometimes I've wanted a bar to stay open for longer but for me the opening hours are very similar to England!  That being said I have often found that if you really want to keep partying, you can normally find a way! 
5. On average, how much do you spend for a day traveling in Hanoi or Vietnam? Is it much or enough for you? 
When it comes to spending it's hard to put an exact number on how much I pay per day travelling. To be honest I look more at the value for money than the overall price. What am I getting for my money? Travel is about creating memories, connecting with locals, understanding their culture and experiencing new things. If that's what I'm paying for then I'm happy to do so!
Vivu Journeys is a dynamic destination management company pioneering in providing exceptional tourism products and creating connections between tourists and destinations. As a member of the leading travel group TMG, Vivu Journeys prides to offer tourists novel journeys with distinctive experiences.