One of the joys of Hoi An is uncovering its surprisingly robust culinary scene. While part of the foodie experience is wandering down alleyways in search of a single-dish food stand that may or may not be open or even uncovering your own hole-in-the-wall find, sometimes you just want to enjoy it all with minimum fuss. 
Spice Viet Restaurant (187 Ly Thuong Kiet, just next to ÊMM Hotel Hoi An) takes out the traveling component but leaves all the flavor by serving up Hoi An's most iconic dishes in one beautifully contemporary space featuring atmospheric dark woods, lots of live greenery, and pretty displays of fragrant, dried spices. The carefully curated, 3-page menu also includes favorites from all around Vietnam as well as vegetarian dishes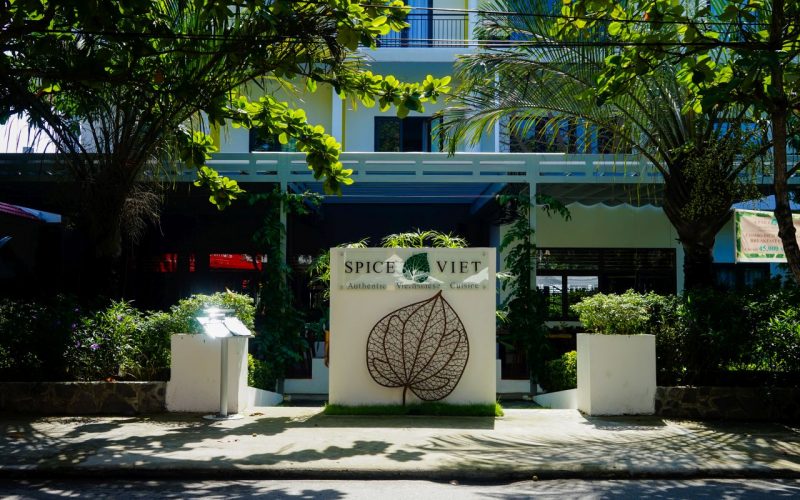 Opened in July 2018, Spice Viet Hoi An has already gained buzz for building on the freshness and simplicity that Vietnamese cuisine is known for by using sustainable, organic produce, most locally-sourced within a 30km radius of the restaurant. We peruse the menu and spot a number of tantalizing dishes that we haven't seen on any other restaurant menu including Vietnamese smoked duck breast, chicken stewed with lotus seeds, and a green papaya salad topped with grilled flank steak in a tamarind dressing.
In the end, we settle on dishes from Hoi An and Hanoi, starting with a fried wonton appetizer topped with a sweet and sour sauce and a beautifully presented chicken & rice. While wontons can be found everywhere in Vietnam, usually in a noodle soup, Hoi An has its own version, using crispy fried wonton skins as a base for a topping of shrimp and pork in a tangy sauce with crunchy bell peppers and onions. Simple and delicious, it's wonderfully unique to Hoi An.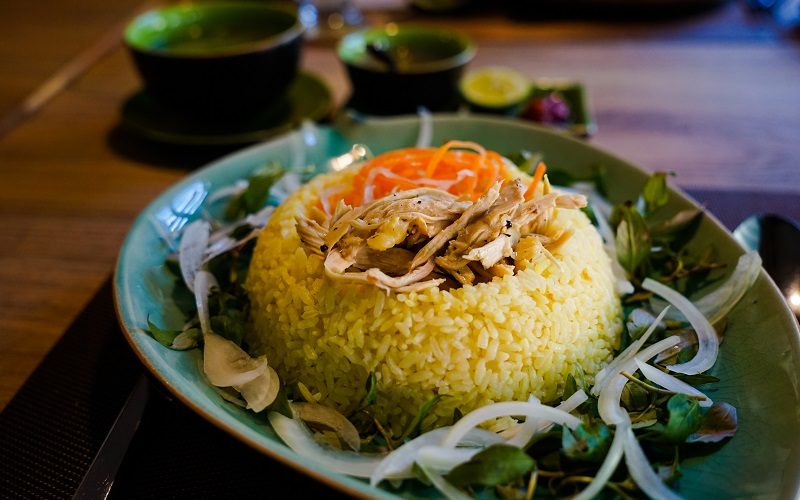 For our other main, we head north to Hanoi for cha ca la vong, pan-fried chunks of boneless fish marinated with turmeric and galangal. The beauty of this dish was in the freshness of the fish and herbs, including dill, not commonly seen in Vietnamese cuisine outside of northern Vietnam. Spice Viet gets all its herbs from nearby Tra Que, famed for growing fresh, organic produce using locally-sourced seaweed to fertilize the plants instead of chemicals.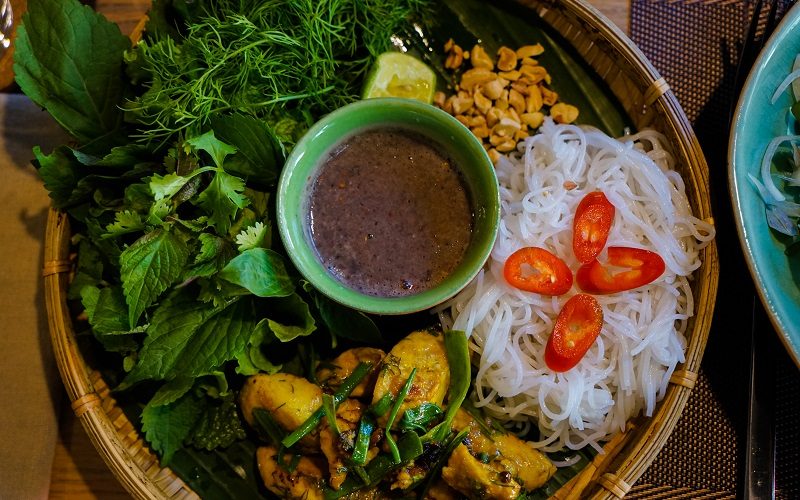 Just five minutes from Hoi An's Ancient Town, we were thrilled to go on a culinary journey through Vietnam, surrounded by intricate latticework and flowing fabrics that created distinct dining spaces, allowing for both large tour groups and more intimate gatherings.
Spice Viet Restaurant also has branches in Hue (15 Ly Thuong Kiet), Saigon (157 Pasteur, D3) and Hanoi (46 Nguyen Truong To).


By James Pham