TMG – Racing UTVs on the sand, surfing waves with catamarans, or cherishing the majestic Halong Bay with unique seaplanes or cruises are the distinctive experiences that TMG offers tourists for a memorable holiday. 
As one of the leading travel groups in Asia, Thien Minh Group (TMG) possesses plenty of high-class and well-reputed products stretching from North to South Vietnam, which domestic and foreign tourists and media have been fond of for a long time. 
Let's check out the national broadcaster VTV (Vietnam Television) has introduced to tourists everywhere which outstanding products the group has provided so far.
1. The off-road racing service with UTVs at TUI BLUE Nam Hoi An:

In the latest episode of "Morning Coffee with VTV3", TUI BLUE Nam Hoi An's UTV driving service, namely BLUE Beach Track, was featured as "the adventurous experience only found in the South of Quang Nam province."
Launched in March this year, BLUE Beach Track is the first-ever UTV driving service in Quang Nam provided by TUI BLUE Nam Hoi An in Ngoc An village, Tam Tien commune, Nui Thanh district. 
Racing on the 1km long off-road track, tourists can experience the thrill of adventure while driving through challenging corners of the bumpy terrains from the dunes to the shore. With a team of professionally trained staff, TUI BLUE Nam Hoi An always adheres to safety principles, offering customers the most wonderful discovery experiences.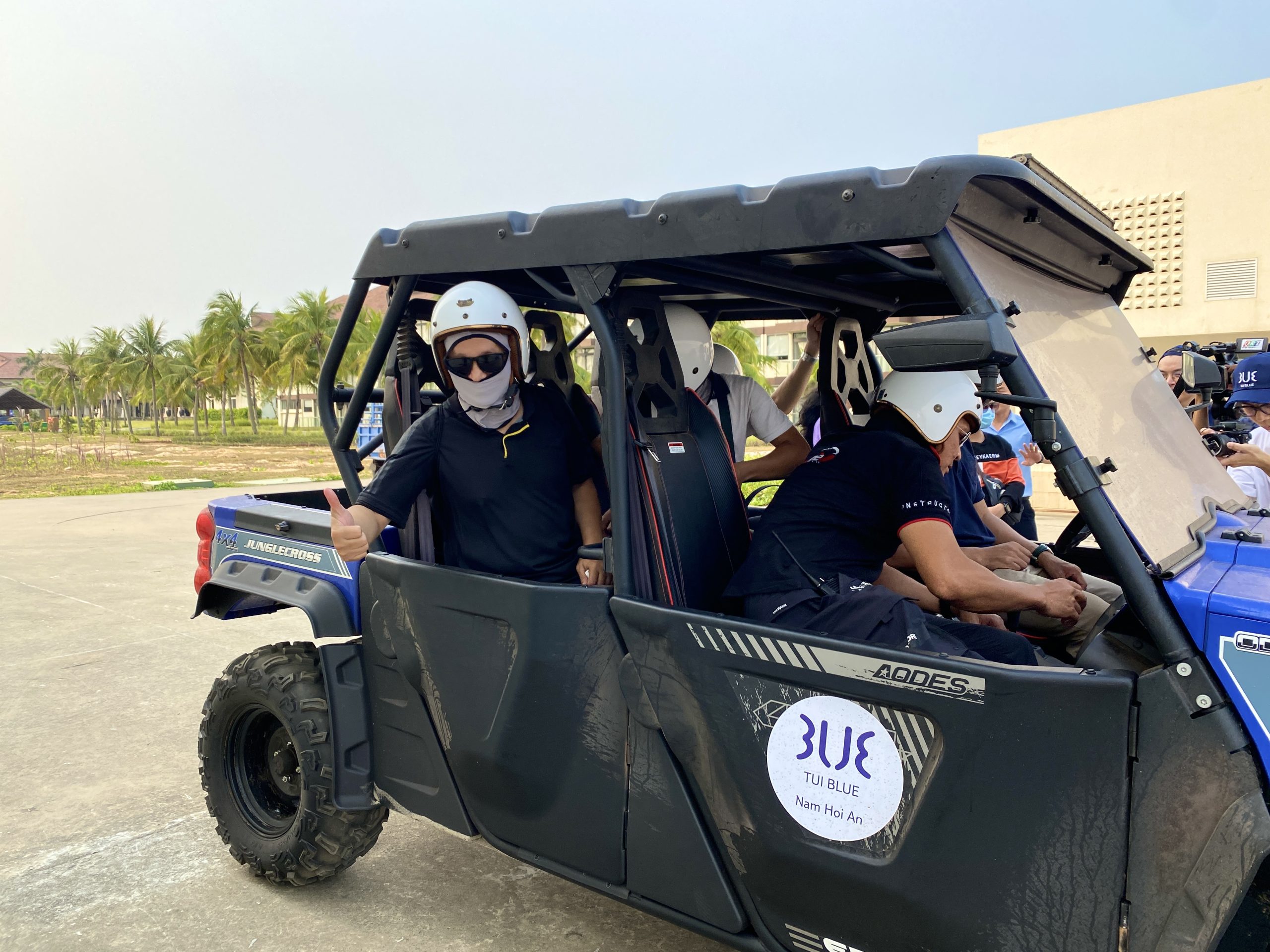 2. Enjoying waves in Cua Dai Beach with the catamarans of Victoria Hoi An Beach Resort & Spa
Besides the unique UTV racing service at TUI BLUE Nam Hoi An, tourists also fancy the catamarans of Victoria Hoi An Beach Resort & Spa, one of the top beach resorts in the heritage city of Hoi An. 
At a resort located on the shores of the beautiful Cua Dai Beach, like Victoria Hoi An, it is incomparable to relax on a catamaran and enjoy the cool fresh sea breeze and waves. That makes Victoria Hoi An win in many tourists' favor. In the VTV reportage, a man exclaimed after experiencing this unique service: "Hard to explain, but terrific to play."
3. Cherishing the splendid Halong Bay with Hai Au Aviation seaplanes and the high-class Emeraude Classic Cruises
TMG's luxury Emeraude Classic Cruises and the unique scenic flights by seaplanes of Hai Au Aviation make up a 'great duo' service in Halong Bay, which was also introduced on the famous program 'Morning Coffee with VTV3'.
In Halong Bay, TMG offers tourists the one-and-only experience in Vietnam, which is enjoying the breathtaking beauty from the 300-meter height with the seaplanes of Hai Au Aviation, a group member known as the leading seaplane operator in Vietnam. 
Tourists will have a chance to see the majestic Halong features with natural rocky islands, rustic fishing villages, or small boats floating in the blue-green color in the warm sunlight at dusk or dawn. That's undoubtedly an unforgettable experience for those who have experienced the Hai Au Aviation scenic flights. 
In addition, the luxury Emeraude Classic Cruises is also an ideal choice for those adoring the lightness of being and a sense of novelty with many distinctive experiential activities such as sipping tea while watching sunset/sunrise, cooking classes, nourishing exercising, night squid fishing, etc. All of these make a memorable journey to discover Halong Bay.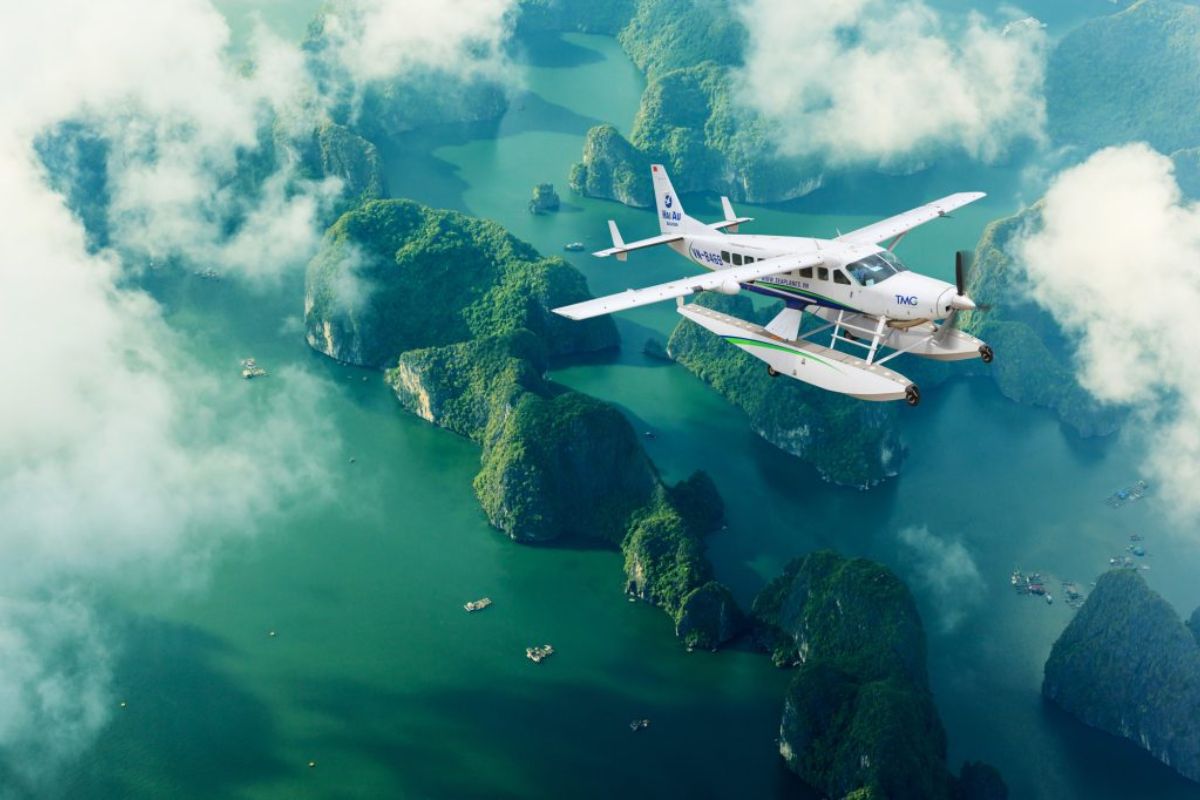 Watch the two services featured on VTV3 here
Founded in 1994, TMG has been going through nearly 30 years of establishment and development and now stands as one of Asia's leading travel groups providing package travel services with the motto of customer-centricity. With four business pillars: Destination Management, Hospitality, Online, and Aviation, TMG is the perfect piece in journeys with diverse visitor experiences.