TMG – The 5-star resort TUI BLUE Nam Hoi An possesses vast tropical gardens that have been built and nurtured by the diligent and creative gardeners of the resort. 
TUI BLUE Nam Hoi An, the beachfront 5-star resort, features vast green gardens that win the favor of numerous tourists, thanks to the effort and creativity of the diligent 'artists' at the resort. 
As one of the top resorts in Quang Nam province, TUI BLUE Nam Hoi An, a Thien Minh Group (TMG) member, captivates tourists with its picturesque landscapes next to Tam Tien Beach, especially the stunning tropical gardens with bunches of lush trees and colorful flowers. 
The 'artist' creating such an impressive garden is undoubtedly the gardening team of TUI BLUE Nam Hoi An, in which Chief Gardener – Mr. Tran Van Thoi really stands out. Formerly a forest engineer, Mr. Thoi has utilized his experiences related to green trees, along with the support of the resort's manager, his team and local people, to gradually build and beautify the gardens.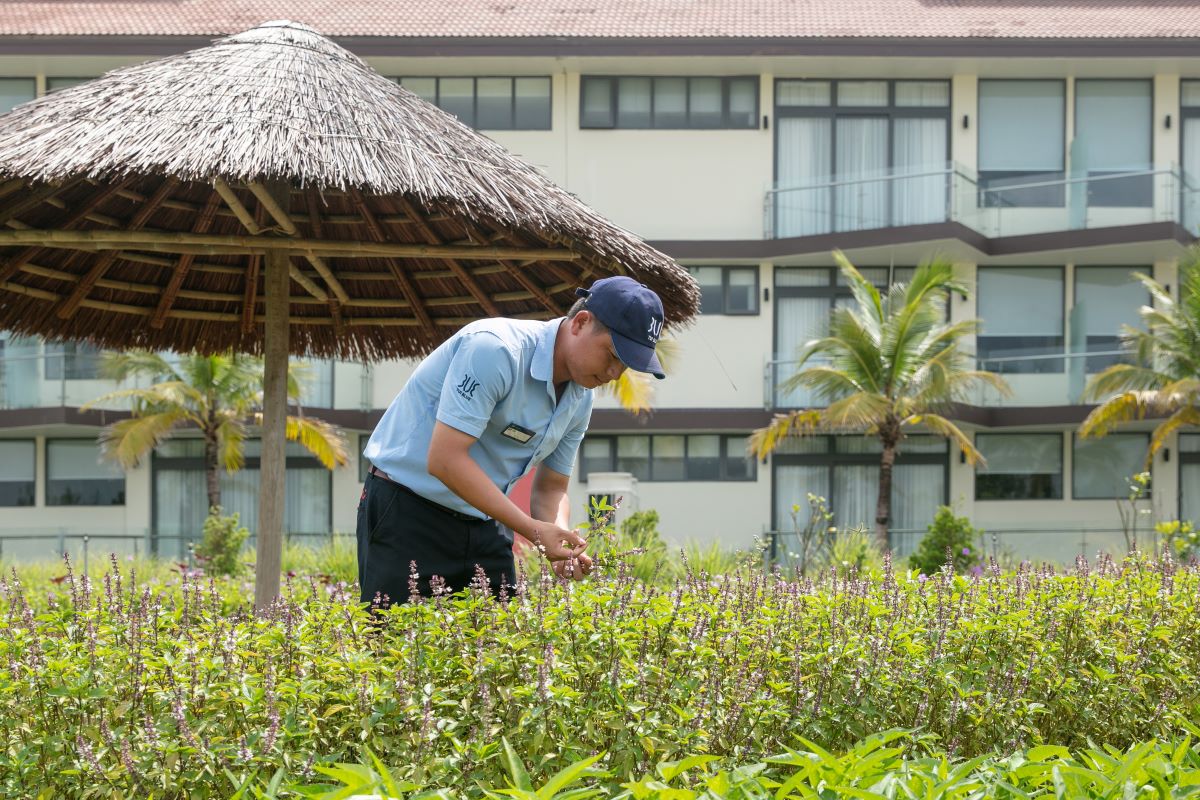 Let's listen to the sharing of Mr. Thoi about the garden that he and his colleagues take care of: 
'When I joined TUI BLUE team, I felt the tremendously positive energy of the people and environment here. In line with the direction of Mr. Anton Bespalov, General Manager of TUI BLUE Nam Hoi An, we have built many new things from the gardens. For example, we've built an organic vegetable garden to provide fresh and clean food for visitors and staff at the resort. In addition, we've also organised many experiential activities from the gardens such as green experience tours and others. 
Besides, we also build a nursery garden. In that gardens, we nurture many flowers and plants which can be used to restructure the resort after a storm or other terrible weather conditions. 
We want to contribute a small part to building more stunning landscapes and protecting the environment. We want to make a big change for our hometown and help it develop for the better.' 
With the direction of sustainable development, TUI BLUE Nam Hoi An, as well as TMG's all entities, strive to grow and offer our guests the most suitable green, eco-friendly, beautiful, and safe accommodations.
Founded in 1994, TMG has grown from a company with three employees to a business with more than 2,500 employees working worldwide. Thien Minh is proud to be Asia's leading company providing package travel services with the motto of customer-centricity. With four business pillars: Destination Management, Hospitality, Online, and Aviation, TMG is the perfect piece in journeys with diverse visitor experiences.