TMG – Experiencing the coastal sandy terrain track and shaking with UTV motors are unique feelings only found at BLUE Beach Track, the first off-road track in Vietnam managed by TUI BLUE Nam Hoi An resort.

Let's shake it off all of your negative fleeings this summer and enjoy to the fullest the UTV driving experience on the coastal sandy terrain track of BLUE Beach Track, the first off-road service in Quang Nam, Vietnam, managed by TUI BLUE Nam Hoi An resort.
Meandering along the side of Tam Tien Beach and next to the campus of the 5-star beach resort TUI BLUE Nam Hoi An, Quang Nam's first off-road adventure racetrack, BLUE Beach Track promises to create many memorable experiences for visitors when choosing to stay here, a resort member of Thien Minh Group.
Today, we are listening to the sharing of Mr. Tang Hoang Duc, Front Office Manager at TUI BLUE Nam Hoi An, to learn more about the off-road terrain race track here.
As you know, we are currently opening a racetrack for all types of off-road vehicles that can be experienced next to TUI BLUE's campus for customers to experience the rural landscape. This is a fairly new product for all customers from all across Vietnam. The type of vehicle we use is a gasoline 4-seater. This UTV is also quite powerful, with a maximum speed of up to 100 kilometers per hour. But for us, safety standards always come first. Everything is detailedly planned.
For vehicles that can reach 100 kilometers per hour, we certainly can't let guests drive by themselves, especially with customers without experience in driving. We have a professional team with qualified coaches. Currently, we limit the maximum speed to about 50 kilometers per hour. And on every trip experienced by guests, there is a coach accompanying them.
Besides, guests must wear seat belts at all times and wear helmets to limit the risks to ensure safety during their trip. In the first phase, we only open the off-road road within a distance of more than a kilometer. The terrain is relatively easy, but they will race on sand. So it creates a fantastic feeling for guests because when we ride on the sand, there will be flexibility, making them shake with the car. This feeling is only available on off-road vehicles. There is also a beautiful road parallel to the sea. You can look at the long coastline and the emerald sea.
This is an amazing experience for guests where they can enjoy everything in a rural landscape with a long white sandy beach, green sea, and golden sunshine.
Hopefully, with this project introduced, customers will have the most valuable experience while staying at our resort TUI BLUE Nam Hoi An.

VTV3 reported about TUI BLUE Nam Hoi An's BLUE Beach Track service.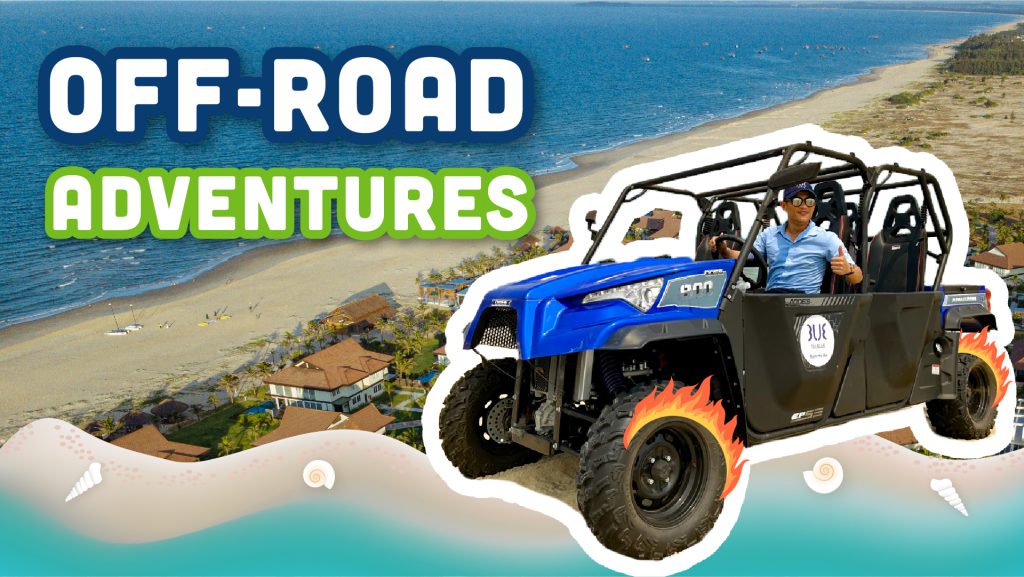 Founded in 1994, TMG has grown from a company with three employees to a business with more than 2,500 employees working worldwide. Thien Minh is proud to be Asia's leading company providing package travel services with the motto of customer-centricity. With four business pillars: Destination Management, Hospitality, Online, and Aviation, TMG is the perfect piece in journeys with diverse visitor experiences.