TMG – Hai Au Aviation, a leading general aviation company in Vietnam and a pioneering brand in seaplane sightseeing services within the country and the region, is delighted and proud to announce that we have welcomed our 100,000th passenger on a sightseeing flight at 14:20 on May 24th, 2023, at Tuan Chau Island, Halong Bay.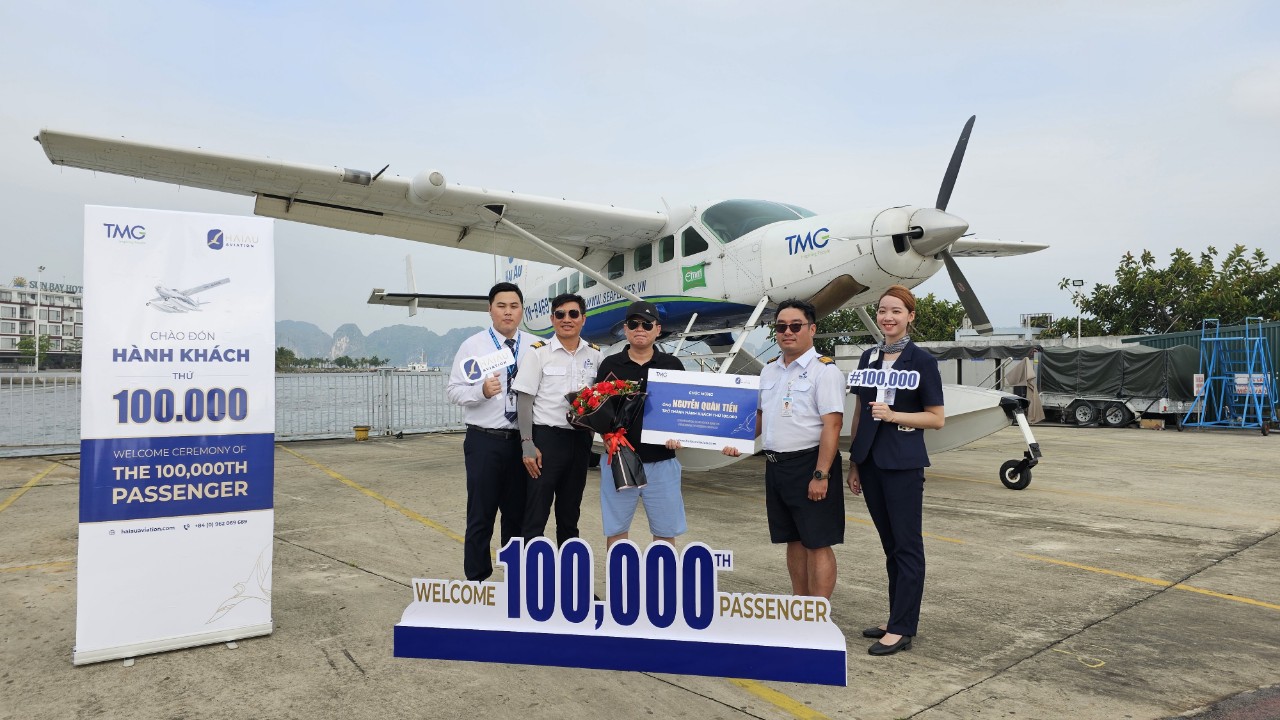 The special welcoming ceremony took place with esteemed guests, media representatives, and the staff of Hai Au Aviation. Mr. Nguyen Ba Hai, Deputy General Director in charge of flight operations and the pilot-in-command of this historic flight, HAI616, was also in attendance. And, notably, the lucky passenger who contributed to this remarkable milestone in the history of Hai Au Aviation.
Our 100,000th passenger, Mr. Nguyen Quan Tien, enjoyed a unique seaplane sightseeing experience with Hai Au Aviation. Mr. Nguyen Quan Tien was presented with a handcrafted wooden seaplane model by Filipino artisans, symbolizing the recognition of his contribution and appreciation for our seaplane sightseeing service.
The seaplane scenic flight experience by Hai Au Aviation not only offers passengers breathtaking and captivating views of the world's natural heritage sites but also provides a sense of freedom, fulfillment, and satisfaction to all senses. With our experienced and professional pilot team, we are committed to delivering the most exceptional and safest flying experiences over Halong Bay that cannot be compared to any other service.
The 100,000th passenger represents a significant milestone in our development journey and serves as a testament to the trust and support of all customers throughout the years. Hai Au Aviation sincerely appreciates the companionship and contributions of all valued customers and commits to continue striving to provide the most memorable and excellent seaplane sightseeing experiences.
On the occasion of this memorable historic milestone, Hai Au Aviation is also expressing gratitude to all customers by offering exceptional and attractive promotions such as buy 2 get 1 free ticket and up to 50% off when booking a whole charter flight (maximum 12 passengers/flight) until June 4th, 2023.
We are also planning to launch and expand seaplane services on the route connecting Tuan Chau Island to Co To Island in just 25 minutes, as well as introduce sightseeing flights in the Quang Binh – Hue – Da Nang areas during the upcoming summer of 2023.
Founded in 1994, TMG has grown from a company with three employees to a business with more than 2,500 employees working worldwide. Thien Minh is proud to be Asia's leading company providing package travel services with the motto of customer-centricity. With four business pillars: Destination Management, Hospitality, Online, and Aviation, TMG is the perfect piece in journeys with diverse visitor experiences.