TMG – CEO Tran Trong Kien delivers an emotional and inspiring speech about the road leading to success during the memorable graduation ceremony at British University Vietnam.
Welcome at the graduation ceremony at British University Vietnam on April 24 as an inspiring speaker, TMG's CEO Tran Trong Kien made an emotional speech about success, revealing the 'confidential secret' he has been experiencing firsthand to graduates and their families. TMG gladly introduces to you the CEO's full speech:
"28 years ago when I was 21 years old about your age or maybe a little younger than some of you I started my first company. I named it Buffalo Tours. Since the first company, we have developed, acquired several companies and today we have several businesses and brands across the travel, hospitality, technology, and airlines. They might be different in sizes, market segments but they share the same traits that they are all market leaders in their segments and getting better each day.  
I thought a lot about what I would share with you today on such an important day for many of you and your families. You have done your first important journey, this is an important milestone and I hope 28 years later (in 2050) when some of you will speak to some young graduates and some of what I will have shared today still make sense. I am going to tell you three things; (1) about passion (2) about relationship (3) about Vietnam and the world today.
Passion is extremely important for success in life if not the most important thing. The mistake people often do is that they say they are following their passions (be that music, art, business, etc). My advice is NOT to follow your passion but be passionate about whatever you are doing. You will most certainly become the best in that. 
When I started Buffalo Tours, I did not know anything about the travel industry nor about doing business. I hardly spoke proper English, hardly travelled anywhere in Vietnam let alone the world. Since then, however, I worked longer than anyone else to learn about travel, I travelled to over 100 countries in the world from Asia, the Americas, Africa, Europe and to Australia, from the North Pole to the South Pole. I attended an executive MBA to learn about running businesses. Fast forward, Buffalo Tours became one of the largest destination management companies in Asia operating in 17 countries from Indonesia, Thailand, to China, Japan, and of course Vietnam. We divested Buffalo Tours to Flight Centre in 2018 at $60M valuation (some highest valuation for a business that did not own anything). 
I might not be the smartest nor best looking but I am always the keenest on new things.
Being passionate makes you stand out from the crowd and makes you achieve incredible things. I see that in our TMG. I tell you a story about Captain Ba Hai of Hai Au Aviation – a member of TMG which is the number one General Aviation Operator in Vietnam. He was the son of the former Vietnamese Ambassador to Germany. He was groomed to become a diplomate but did not like the path and quit his job at the age of 35 and started training to become a pilot at that age. When we hired him in 2014 as a co-pilot working with Canadian captains to fly the brand new Seaplanes, for the first time brought to Vietnam, everyone thought he would not last long. On the contrary, Ba Hai grew and became the first Vietnamese Captain of Seaplanes in Vietnam. He also became an instructor and promoted to be deputy CEO of Hai Au. He managed to develop a team of several Vietnamese captains and co-pilots of seaplanes for Hai Au who are amongst the best in the region.
Today I am very happy to see many girls graduating from the top international university brand like LSE and that reminds me of another story about Xuan Thu. She was a young Vietnamese girl who was so little, shy, and quiet that when she applied to work for Victoria Can Tho, the manager doubted that she would pass probation. She prevailed and grew in Victoria Hotels & Resorts 15 years later to become the first Vietnamese General Manager of a Victoria Hotel and also the first Female General Manager. Xuan Thu is now TMG's Cluster General Manager who is running all of our five hotels in the South of Vietnam with around 600 staff working for her helping to change thousands of lives.
Another wonderful story is about Khanh, he graduated from a foreign language college in Hue but decided to join the hospitality industry. When Khanh joined us, he was just a junior and shy sales executive who did not stand a chance to last. He has however learned from all the managers who he worked with, took on new challenges, and later became one of our best General Managers. Today as a Cluster General Manager for the centre of Vietnam, Khanh started several initiatives which helped TMG Hospitality to get through the recent pandemic.  
Now I am talking about relationships. If you live long enough like me and many of the parents and professors here then you will understand this comment. How rich you are, depends on how much and how deep your relationships with others and Not how much money you have. It could not be truer to me.
I first met Darrell, founder and CEO of Intrepid Travel when I was 20 years old. I was helping him and Anna (his girlfriend then now his wife) to see a few temples in Hanoi. He might have seen something in me in those few hours that he encouraged me to start Buffalo Tours. Intrepid was our first customer. In 2005, I proposed to Darrell to set up his first overseas company as a Joint Venture with TMG in Vietnam. Intrepid Vietnam was founded and has been carrying hundreds of thousands of passengers to Vietnam and making millions of USD profit and creating 200 permanent jobs in the country. 
Today our relationship is still very strong. Darrell retired as CEO a few years back and I still call him once or twice every month to chat about opportunities. We meet at least once a year and often just over a nice dinner, a few glasses of wine. Sometimes, we still create new things from those dinners.
There are hundreds of stories like this in all businesses so please develop true, honest and deep relationships now. Those will be more important than cash when you get to our ages.
Relationship development could be misconstrued by endless dining and partying. While I do not deny the power of those activities, this might have several harmful and unsafe consequences. Also, deep relationships require character and not just personality. Trust could only be created if you constantly show integrity, reservedness, humility, and indeed investments in time and energy. At TMG, 8 years ago, I realised that our team spent too much time dining and drinking with clients and with each other. We then decided to change the culture and made Health (together with Kindness and Growth) the key aspects of our culture. TMG since then has changed into a different organisation. For example, at our weekly Monday briefings with GMs, before we talk about businesses, we often talk about the marathon or half marathon someone did over the weekend (my latest was Tay Ho Half Marathon last Sunday). This is how we are building relationships amongst team members apart from the daily real work.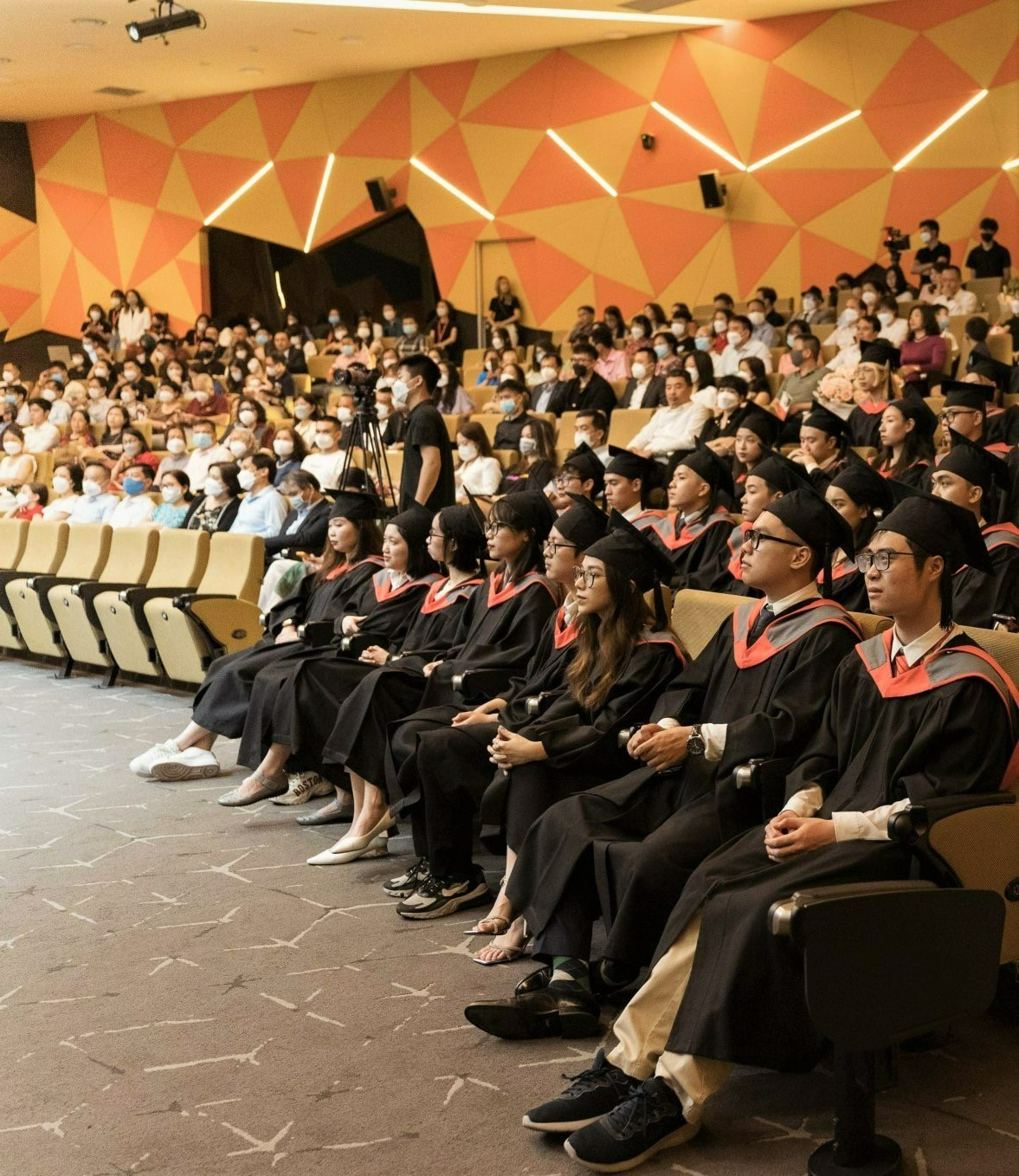 Lastly, Vietnam today is very different from Vietnam 28 years ago.
When I left school, Vietnam was ranked 67th economy in the world but GDP per capita was ranked 170th. And today our economy is ranked 41st and GDP per capita is 116th.
When I left school, our material dream was a honda dream motorbike, a 20 sqm flat, and a couple of changes of new clothes. That was all! 
I know you now have your material dream too; a car, a house, branded watches/bags, or an around-the-world trip. I trust you will achieve them through working hard and smart when you come out of here.
What I want to say is that Vietnam must integrate more with the world and our economy and GDP per capita should be ranked 15th corresponding with our population ranking if we are achieving prosperity for all. You will play a very important role in this. Many of you will become managers, general managers, and business owners and you will first achieve what you dream for yourselves and your loved ones. But I hope you will dream about how you could help Vietnam in this 28-year new chapter.
At TMG, I recall one of the Tets when I visited an office boy's family in Hanoi. I was most moved when I knew despite that the whole family was living in a quarter of less than 40 sqm, he managed to raise two wonderful daughters who were studying at the best universities in Hanoi. He was pulling two jobs, one of his day jobs was our office boy. I realised that every decision I made on benefits would touch thousands of lives. That was the reason that we did everything during Covid to keep hotels open so that we could keep jobs. The tourism industry was employing about 2M jobs before Covid and about half of them were lost. So growing our businesses is not about me, my material needs, my family needs, or even our net worths but the goodness and future of thousands of children and families depending on TMG.
Unfortunately, the world is not less challenging now when you walk out tomorrow. You know about the war in Ukraine. You know Vietnam is having some strategic challenges similar to Ukraine. I do however believe in the smartness of Vietnamese leadership and indeed the future generation of Vietnam will help us to avoid potential wars and atrocities. You know that we are also facing some of the major challenges with Climate change and only the smartest people would be able to come up with the smartest solutions. The challenges go on but I am hopeful because of a generation like yours.
That is about it with my three points for today. I hope you remember the three words; passion, relationship, and Vietnam from the long speech. I hope you will look up the TMG website and consider joining us one day. Most importantly, I wish you much success but success as defined by Ralph Waldo Emerson though written a long time ago still very apt for today.
To laugh often and much;
To win the respect of intelligent people and the affection of children;
To appreciate beauty;
To find the best in others;
To give of one's self;
To leave the world a bit better, whether by a healthy child,
a garden patch, or a redeemed social condition;
To know even one life has breathed easier because you have lived –
This is to have succeeded.
Thank you, many congratulations, and my best wishes".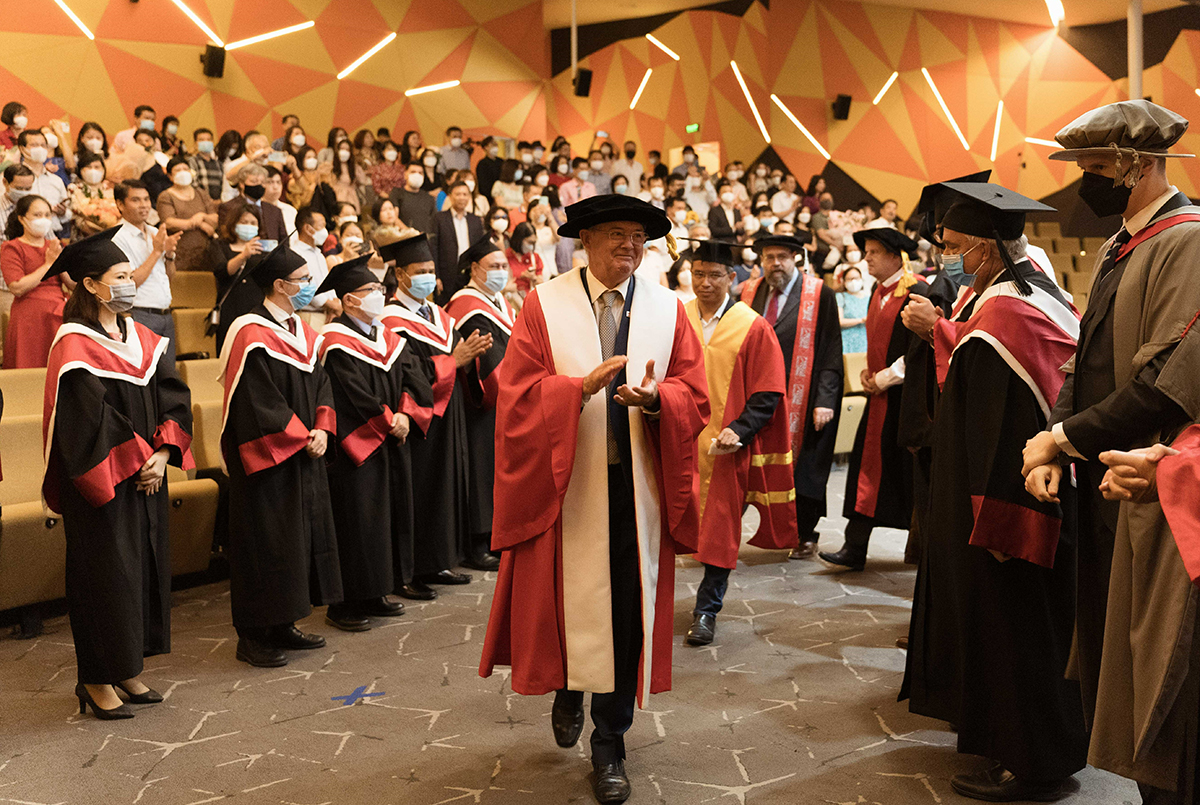 Tran Trong Kien has been known as a pioneer in many adventure tours in Vietnam, Cambodia and Laos. He ran local tours to fund his medical studies before establishing his own tour operator in 1994. Over the past 27 years of establishment and development, Kien has led his business to become Thien Minh Group – one of the biggest travel and hospitality groups in the region. Kien is also the current chairman of Vietnam Tourism Advisory Board (TAB), Hue Tourism Advisory Board (HTAB), Vietnam Tour Guides Association (VTGA), trustee of Fulbright University Vietnam, Vietnam Tourism Association (VITA), board member of Vietnam Institute of Directors (VIOD), member of the Private Sector Development Research Board (IV Board) of the Advisory Council for Administrative Procedure Reform and ex-member of Asia Commercial Bank (ACB), VP Bank and Vinaland.
He graduated as a Medical Doctor from Hanoi Medical School, holds a BA in English from the University of Foreign Languages and International Studies, Hanoi, Vietnam, and an MBA from the University of Hawaii at Manoa.