TMG – There are some significant challenges that Vietnam Tourism is facing, and all related sectors must collaborate closely with each other, facing them head-on so that Vietnam Tourism can fully reach its potential.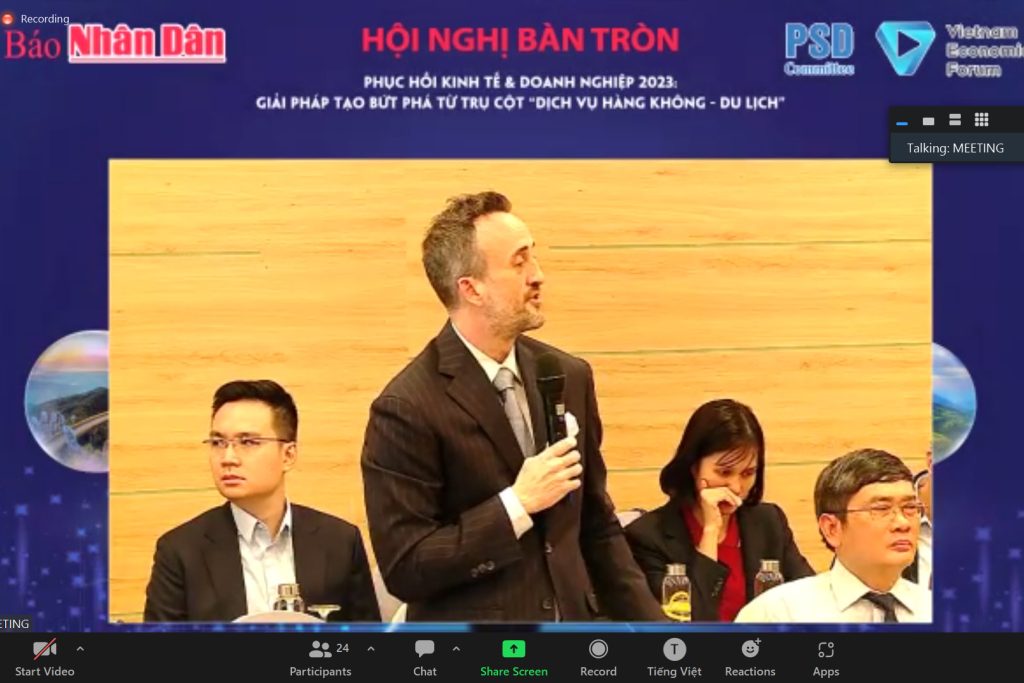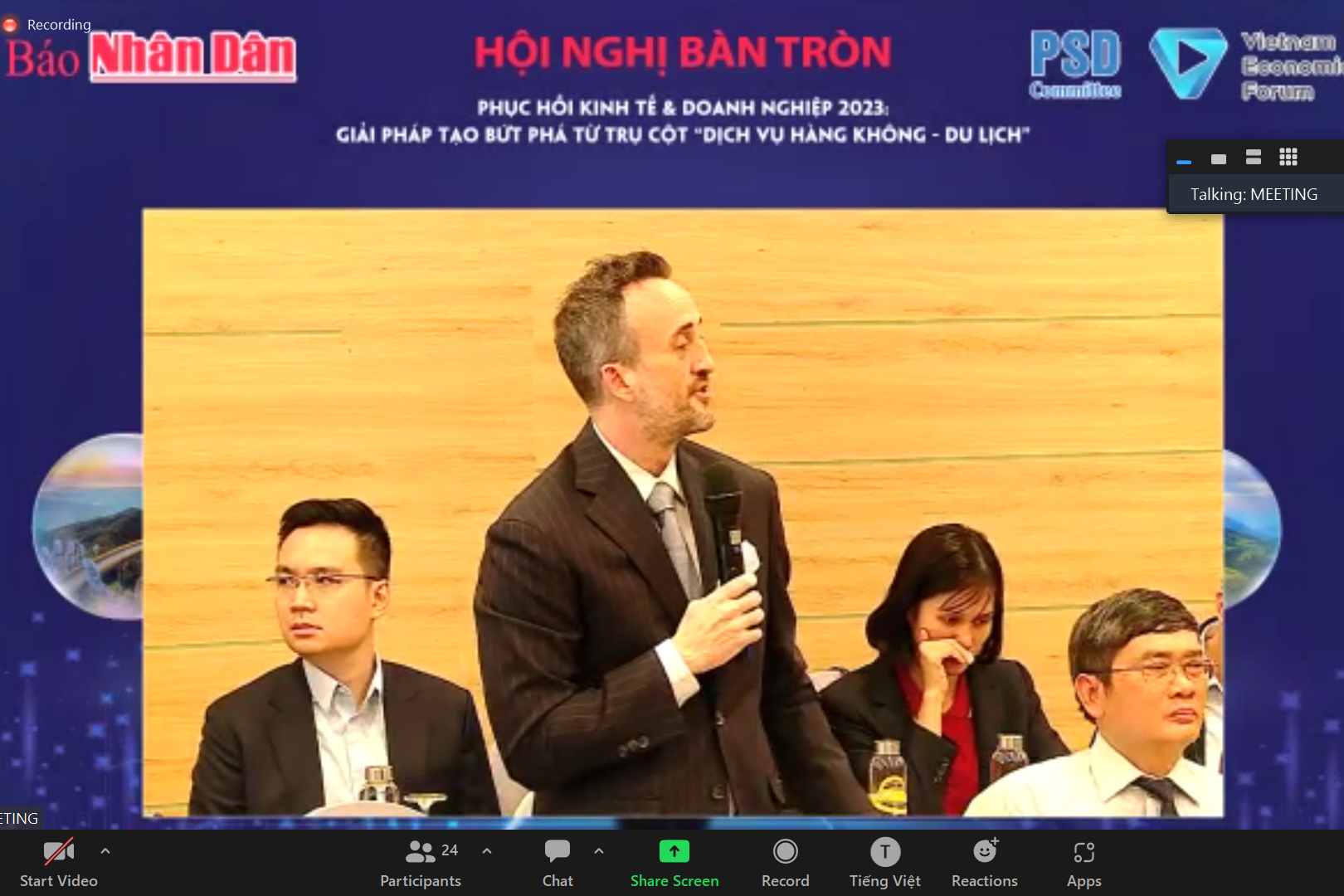 On behalf of Mr. Tran Trong Kien, TAB Chairman cum TMG Chairman & CEO, TMG Deputy CEO Mr. Chris Farwell delivered a speech at the conference hosted by Nhan Dan Newspaper and Committee IV on December 16th to find ways to develop Vietnam Tourism further.
The following is his full speech:
Your Excellency Mr. Le Quoc Minh and Mr. Truong Gia Binh
Distinguished guests, Ladies and Gentlemen,
This is my pleasure to be here today to make this keynote address on behalf of the Tourism Advisory Board ("TAB"). My name is Chris Farwell, I am the Group Deputy CEO of Thien Minh Group, a proud member of TAB.
In 2022, Vietnam's economy has been severely impacted by the Covid-19 Pandemic, global economic challenges (inflation, recession), the Ukraine war, US-China Trade tension, and a diversion of global policies toward Covid-19. Several of our key export industries such as textiles, shoes, furniture, etc have seen a significant slowdown in new orders. As a result, as many as 2 million jobs might have been lost over the second half of 2022.  It is our belief that tourism will be a solution for Vietnam in 2023 and beyond to bring back growth, foreign currency, jobs, and more importantly trade and investments.
The Global Covid-19 Pandemic impacted tourism across the whole world. For Viet Nam, the socio-economic impact was particularly strong as prior to the crisis, the tourism sector was growing rapidly and becoming an important economic driver contributing about 10% directly and indirectly of GDP which during the Covid-19 Pandemic dropped to 2.1% of GDP in 2021.
Vietnam, because of the successful vaccination program and the high % of the population that had been vaccinated, was one of the leaders in re-opening, the region but has been unable to capitalize on that position. Vietnam has only been able to attract approx. 3.5 million foreign visitors in 2022, well below the target of 5 million and associated tourism revenue of approx. US$ 4.5 billion.
Whilst we can applaud the increase in domestic travelers to over 100 million unfortunately the contribution to tourism revenues is not close to replacing the lost revenue from foreign visitors. Pre covid foreign visitors accounted for US$18.3 billion of the reported US$32.8 billion revenues to the sector. It is also worth noting that whilst Vietnam has been one of the most searched destinations on multiple tourism platforms this has not translated into actual visitor arrivals. The big question is Why Vietnam has not achieved our target of 5 million international arrivals when many countries in the region such as Thailand, Indonesia, and Singapore exceeded their targets in 2022?
Why Vietnam has been ranked near the bottom of the Tourism Recovery index in Asia post Covid-19?
Tourism is a competitive business and we have major regional competitors competing for international travelers both from the region and several long-haul destinations. Thailand is our major competitor and many stakeholders in Vietnam are complaining about losing business to Thailand so we will focus on using Thailand as a benchmark for the purpose of this presentation.
Thailand, in common with many of our regional competitors, has made entry into their countries easier and more attractive in order to attract and compete for international visitors.
Thailand offers visa exemption or waiver to citizens of 65 countries and has extended the period for exemption or waiver from 30 to 45 days and in some cases 90 days. In comparison, Vietnam has not relaxed any of the travel requirements but has actually made it more difficult and this has had detrimental effects on our international arrivals even though we did have a head start compared to Thailand.
Visitors often complained that they could not easily apply for their visitor visas at our Embassies like before Covid-19 citing they were requested to have sponsored companies (a new form of administrative burden) or they were lured to use visa agencies for often an exorbitant amount per visa (US$200 or up to $500 for last minutes visas). We have seen reports that citizens not on the list of countries eligible for an E Visa or deemed difficult such as Mauritius might wait for 30 days or more and might need to pay up to $800 to get their visas.
This has resulted in Thailand attracting more than 10 million foreign visitors in 2022 and a resulting US$ 16 billion in foreign currency revenue. This compares to 40 million visitors and US$ 56 billion in revenues in 2019 pre-covid. In the last two months of 2022, several of Thailand's key European markets have come back to nearly pre-Covid levels while none of Vietnam's key markets have come back to 50% of the pre-Covid level. Clearly, Thailand has outperformed Vietnam by a clear margin. The bottom line is we should immediately return to at least the same visa condition as it was before Covid if we are to have international arrivals.
Vietnam has lacked a coordinated National Plan for the Recovery of the Tourism and Hospitality sector, instead relying on ad hoc and regional initiatives and domestic travelers to keep the sector "alive". However, it is clear that what has been lacking is a working group comprising all major stakeholders from the Government and private sector working together to develop and implement a national plan for the recovery of the sector. This has long been advocated by the TAB and Committee IV.
Developing a comprehensive National Plan for recovery and re-opening will take some time even though TAB has initiated a comprehensive study financed by the EU to assist in this process. However, if we wish to boost the economic recovery and compensate for some of the challenges and headwinds we are starting to see, which will have major impacts on several sectors of the economy, we need to act boldly and quickly and there are some low-hanging fruits on offer. The road to full recovery of the sector and returning to contributing more than 10% to GDP is clear but will not be easy nor quick and urgent actions to support the sector are required from the Government.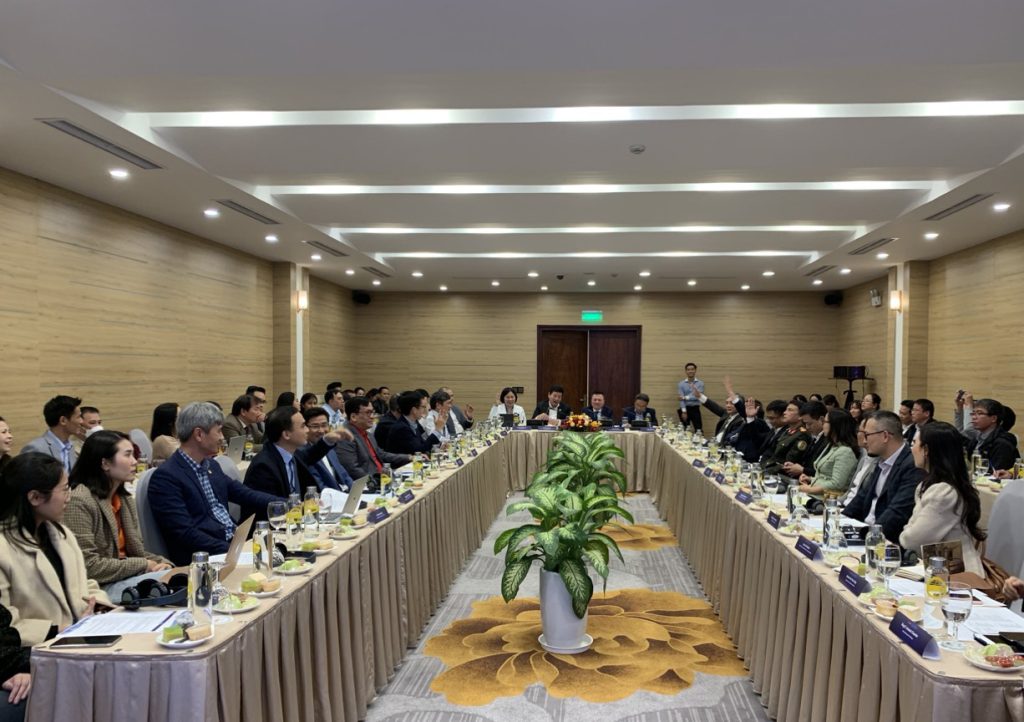 Your Excellencies, these are some of our most important recommendations:
1)    Visas:
It is well documented from many sources including foreign travelers that one of the deterrents to visiting Vietnam is the visa regime and the time-consuming process to obtain visas.
Whilst we maintain our view that expanding the list of Visa exempt countries, and extending the exemption to 30-45 days, adding more countries to the list (other European countries, Australia, New Zealand, Canada) would be a significant boost to the overseas visitors, we acknowledge that some high-level members of Government seem to be against this. Whilst we strongly recommend the Government reconsider this policy, we will, for now focus our comments and recommendations on eliminating the administrative burden for Visas and E-Visas.
Currently, there are difficulties for people from several countries including Australia, Canada, etc to get their visas even if they contact our Embassies. They were asked for sponsored companies or referred to visa agencies. This practice must be stopped immediately and consistent, friendly, and timely responses should be expected for all who contacted our Embassies.
Secondly, the system of E-Visas really does need urgent attention in the following areas:
The list of E-visa countries should be expanded to all countries;
More official domain names should be added to make it easier for foreign visitors to find online and the number of agents with websites posing as official visa channels should be closed down;
The ease of access and user-friendly interface should be improved. Common complaints are that people are unable to access the site or it is very slow or it is not user-friendly compared to other official visa websites.
The system should be reviewed to see if it can be simplified to deliver consistent and timely answers to visitors.
* We believe it should be straightforward so that we could provide answers to applicants within 24 hours. We do not believe a visa fee is a major deterrent but the simplicity of the system is.
2)    Establishing an Inbound tourism recovery task force:
The full recovery for tourism will take several years in a more and more uncertain environment triggered by the possible global recession, war, diversion of policies against Covid, and change in market behaviors. The Tourism Advisory Board would like to once again recommend a recovery task force with strong participation from the private sector. This task force should include decision-makers from all related Government agencies and key stakeholders from the Private sector including Committee IV and the Tourism Advisory Board. We recommend that this task force be led by a senior Government leader with a mandate to review current policies and practices and to develop and implement a comprehensive National plan for the recovery and continued development of the sector, to ensure that Vietnam maintains its place in the market and the destination of choice in the region.
3) Support to the Airlines to increase capacities and the inbound tourism industry to overcome the hangover of Covid-19:
We believe one of the main challenges in 2023 for tourism recovery would be Air Capacity from key source markets. This is coupled with the lack of support for our industry during Covid and the current credit crunch in the economy which might cripple good hotel and tourism operators. Government should consider one of TAB's earlier recommendations to guarantee a working capital loan to Airlines and inbound tourism companies/hotels equal to what they contributed to state coffers in 2019. This will help to disburse part of the allotted interest-subsided loan which was approved by the National Assembly in the Covid-19 recovery package.
These recommendations are not all-inclusive but are the ones that we believe are easiest to implement with the most impact on inbound visitor numbers and revenues and will contribute meaningfully to GDP growth, job creation, and indeed future trade and investments.
The Tourism Advisory Board thanks your attention and is ready to work with you to build a vibrant tourism and hospitality sector. We like to thank Nhan Dan newspaper and Committee IV for organizing this important conference and wish all participants very successful and meaningful discussions.