TMG – Not far from Hanoi is there the stunning Mai Chau Lodge located with its shining Luxury Glamping. Combining nature and modern conveniences, Luxury Glamping is the perfect choice for leisure and bleisure.
There are many choices for guests looking for a place to stay away from the busy life in Hanoi. And Mai Chau Lodge, a Thien Minh Group (TMG) member, with its Luxury Glamping service, is always among the best options for those looking for a paradise close to the capital of Vietnam.
Let's listen to Ms. Chau Thi Y Khoa, TMG Cluster General Manager – Northern Hotels cum General Manager of Flower Garden Hotel – Hanoi, to learn more about the charming Mai Chau Lodge!
"Mai Chau Lodge Hotel is 150-km far from Flower Garden and takes guests about 2.5 hours to drive from Flower Garden to Mai Chau Lodge. As a charming hotel with 16 deluxe rooms, Mai Chau Lodge introduced a new service this year in front of Mo Luong Lake, Luxury Glamping, including eight fully equipped domes. 
Visitors can enjoy the fresh air and the camping feeling that Mai Chau Lodge and Thien Minh provide. After check-in, guests can relax in a very cozy dome, light a campfire in the evening and enjoy BBQ parties by the lake. 
We usually joke that we don't need any bands during BBQ at this Luxury Glamping area because the sound of insects or birds will make us feel very comfortable, like immersing in nature.
In the early morning, guests can wake up, breathing fresh air blown from the rice fields, enjoy the ripples on the lake's surface, drink a cup of coffee, read a book, or run around the village's area. Those experiences are valuable. After a stressful working time in the city, visitors get precious time while resting in a peaceful place like Mai Chau Lodge.
Besides, visitors can kayak or visit Mo Luong cave in front of the hotel, ride a bicycle, trek, or take a buggy to the villages within the Mai Chau area. It is a very fantastic trip for visitors who are interested in discovering the culture of Mai Chau. 
Currently, we have very convenient packages for customers, such as using Thien Minh's transportation services, including moving from Hanoi to Mai Chau and a night's stay in Mai Chau. Guests can use the deluxe room service or Luxury Glamping.
I believe in always working hard and playing hard to achieve the best possible results. Either the process or results are both necessary. The results must reflect orientation and goals. Meanwhile, we always need preparations to work during this process. For me, preparing for a task is very important. In English, there is this quote, "If you fail to prepare, you prepare to fail." I am really into this sentence. 
Thank everyone for your support and companionship with Thien Minh Group on this occasion. We hope to keep receiving your love in the future. My name is Chau Thi Y Khoa, and I was born in Can Tho City. I am TMG Cluster General Manager – Northern Hotels cum General Manager of Flower Garden Hotel – Hanoi".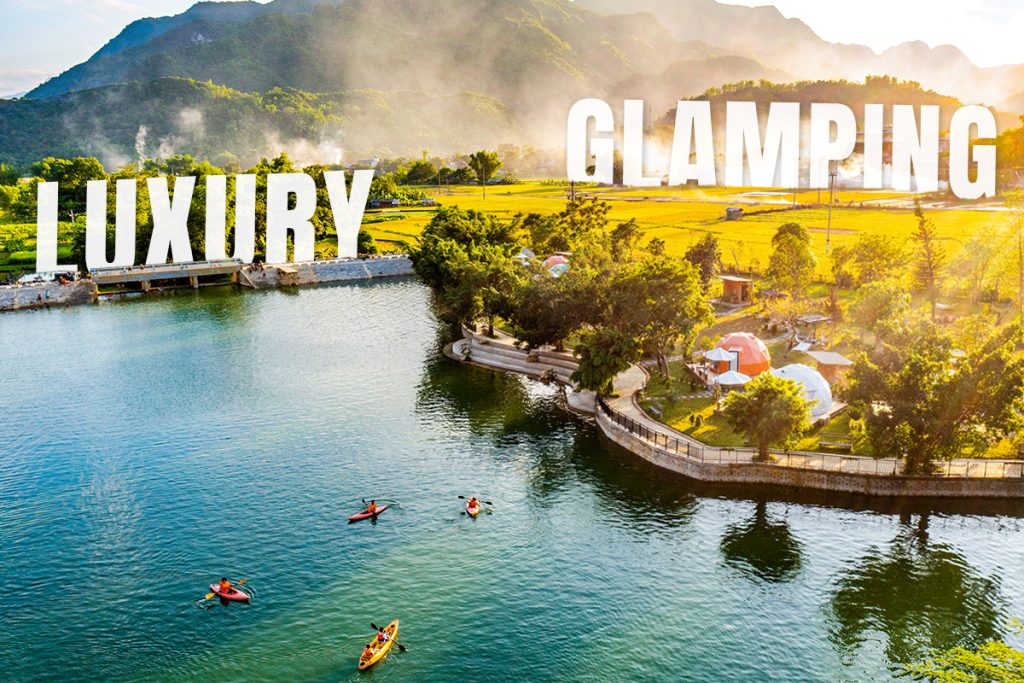 Founded in 1994, TMG has grown from a company with three employees to a business with more than 2,500 employees working worldwide. Thien Minh is proud to be Asia's leading company providing package travel services with the motto of customer-centricity. With four business pillars: Destination Management, Hospitality, Online, and Aviation, TMG is the perfect piece in journeys with diverse visitor experiences.
For more information about Mai Chau Lodge, please contact:
Hotline: 1800 599955
Email: [email protected]
Website: https://maichaulodge.com/vi/