TMG – In mid-November 2023, Hue suffered a major flood after days of continuous downpours. Water levels rose rapidly at night, suspending many activities of residents and tourists alike, as well as affecting the city's tourism and accommodation sectors.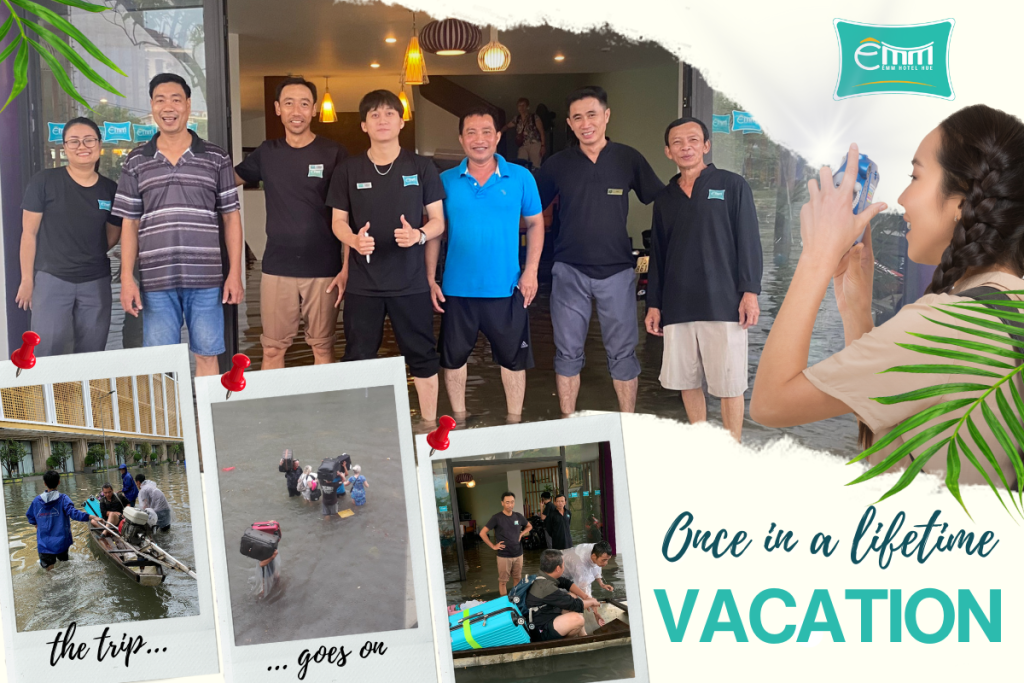 Phu Don Quy, a 28-year-old receptionist at ÊMM Hotel Hue, remembers his shift that night. The water level rose unusually fast, flooding Ly Thuong Kiet Street where the hotel is located. According to press reports, this was the worst flood that Hue has experienced in the past 10 years. Thousands of homes and vehicles in the ancient capital were buried in floodwaters.
The rapidly rising floodwaters also prevented the next day's duty crew from reaching ÊMM Hotel Hue. So Don Quy, partly because he could not leave and partly because of his sense of responsibility towards guests staying at ÊMM Hotel Hue, stayed on to work with colleagues who were already on-site, or more accurately, were stranded at the hotel.
Heavy rains and sudden flooding also caused a large number of tourists to be trapped in the city. But at ÊMM Hotel Hue, no traveler ever feels left behind.
Sharing the "ÊMM Hotel Hue boat"
Upon learning that the airport shuttle could only get to Hanoi Street, 500 meters from ÊMM Hotel Hue on Ly Thuong Kiet Street, Don Quy, along with colleagues including Mr. Tran Minh Hau, Head of Security; Mr. Mai Van Long, Assistant Security Guard; Mr. Le Van Hai, Head of the Technical Department; and Mr. Tran Cong Thanh, housekeeping staff, assisted guests by carrying their luggage to the meeting point.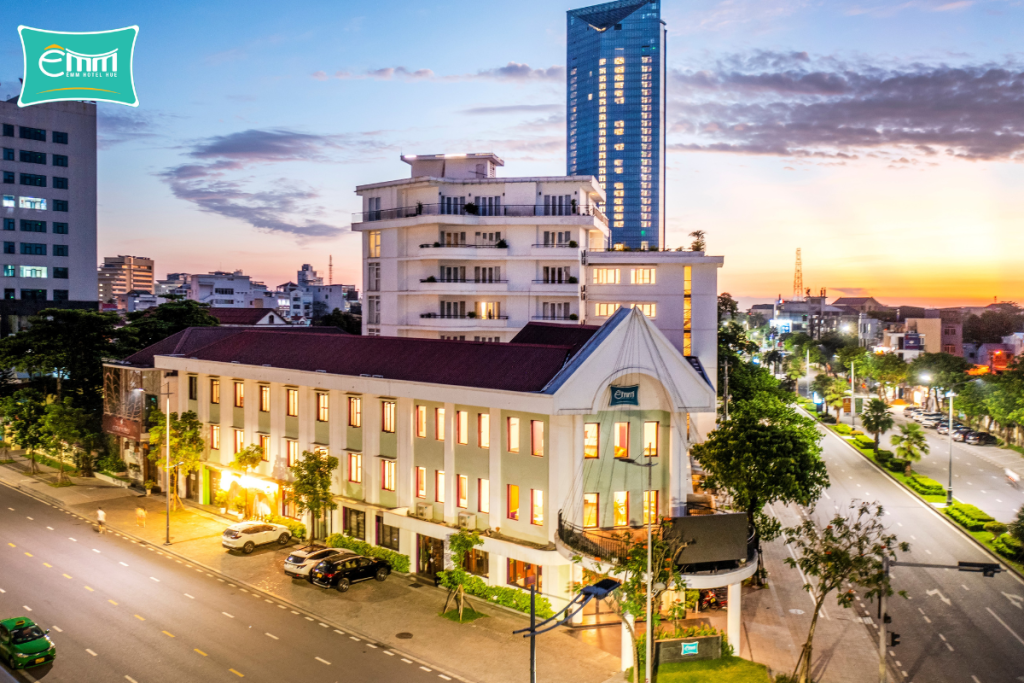 That's not an image that visitors see every day when visiting the ancient capital—a procession of 1.7-meter-tall men hauling suitcases on their shoulders while wading through floodwaters in downtown Hue. The impromptu luggage crew walked a distance of about 500 meters through knee-high water. Some guests were treated to a novel (and much drier) way of travel as they and their luggage were loaded onto canoes and paddled to the gathering point.
Travelers at the center of the flood were relieved that they were still able to make it to the airport to catch their onward flights despite the hiccup in their travel plans. Tourists scheduled to visit Hue during the flooding who had to fly or were determined to fly were also relieved to know that ÊMM Hotel Hue had made arrangements to help them keep their plans.
Late one afternoon while it was still raining heavily in Hue, the airport shuttle from Phu Bai Airport offloaded guests and their luggage on Hanoi Street. Tourists arriving in the ancient capital were thrilled to see ÊMM Hotel Hue staff there waiting with bicycles to help transport their luggage through nearly a foot of water.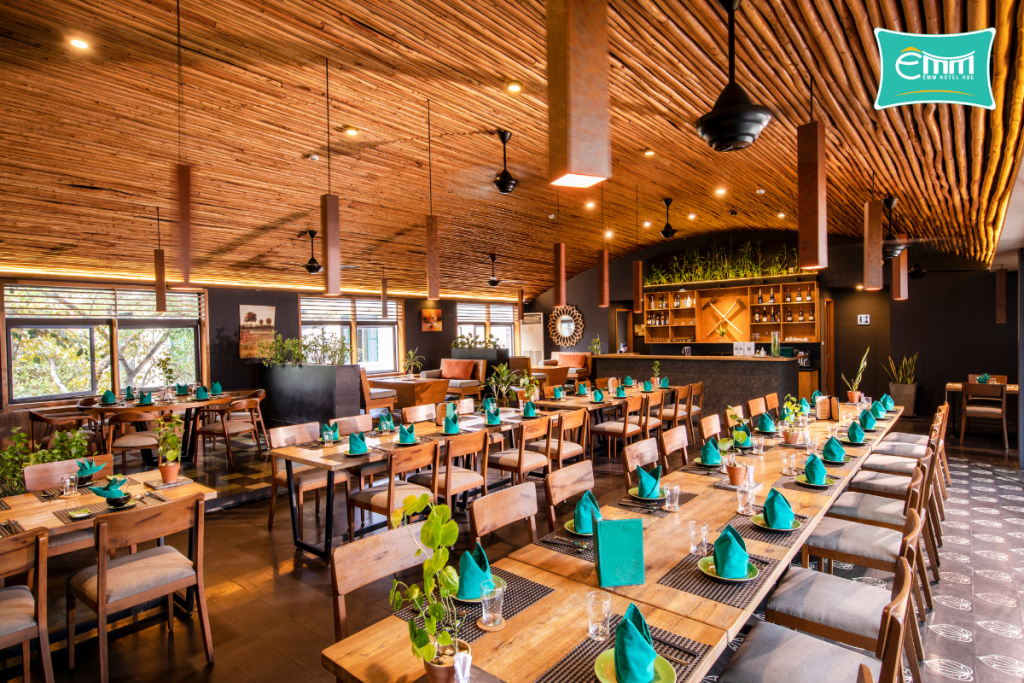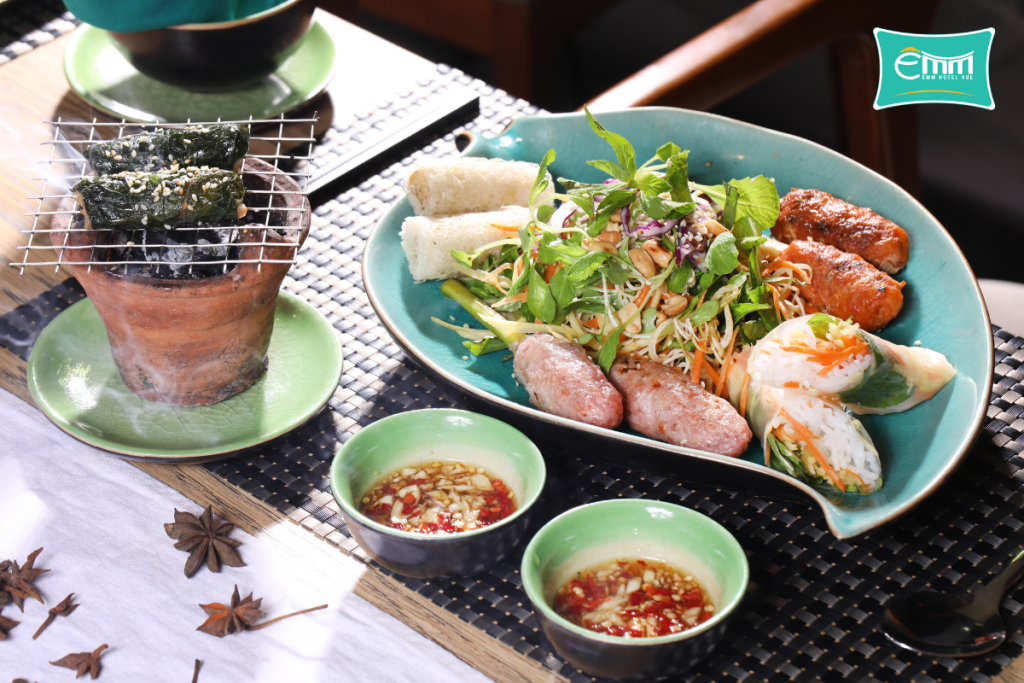 Tourists traveling to Hue during this unusually rainy period had two options when it came to food. They could eat at restaurants on their pre-booked tours or they could dine on traditional Vietnamese dishes at the well-known Spice Viet Restaurant conveniently located on the first floor of ÊMM Hotel Hue. Even though the weather was not favorable, visitors at ÊMM Hotel Hue could still carry on with key activities in the best way possible.
Behind the enthusiasm and friendliness
Seeing Don Quy wholeheartedly assisting guests for three straight days at the hotel during this very unusual work week of the flood season, few visitors knew that Don Quy's young wife was home alone taking care of their two-and-a-half-year-old child. "Thankfully, my house is on high ground, so the most recent flooding didn't enter the house. However, I was still really worried because it was only my wife and child at home and the water had reached the yard, and I didn't know if it would go any higher. But fortunately, it stopped there," Don Quy shared when he returned home after three days of a "going on an on-site business trip".
Don Quy's story is just one of many from ÊMM Hotel Hue during the mid-month flooding of November 2023. While differing in content, these stories showcase the same spirit of dedicated service and the "customer first" principle espoused by ÊMM Hotel Hue, a member of Thien Minh Group. Even in the most difficult of situations, we aim to provide our guests with a superior experience.
Natural disasters and uncertainties are unexpected and uncontrollable variables. But the professionalism of ÊMM Hotel Hue staff, from top management to front-facing employees that visitors see on a daily basis, is the constant for which the brand is known. Located right in the city center, ÊMM Hotel Hue is the ideal choice for both domestic and international tourists when exploring the dreamy, serene beauty of the ancient capital.