TMG – Luxurious space, convenient for approach, professional service. These are the values that Thien Minh Group brings to our customers at their year-end parties with family and colleagues in Hanoi.
When choosing a place for year-end cocktail or buffet parties in Hanoi, the 14′ Rooftop Bar at Flower Garden Hotel, a hotel member of Thien Minh Group (TMG), is one of the best choices of organizations, both domestic and international.
Recently, on the sideline of Vietnam Sports Forum 2022, TMG cooperated with Le Bros media company to organize a cocktail party at the one and only 14′ Rooftop Bar. Ambassadors, companies, domestic and international businesses attended the party.  
"At the party, everyone was delighted, talking and discussing sports and health in such a luxurious space with fresh air on the 14th floor. You know what? Health is also one of the core values that Thien Minh Group has been pursuing since the very first days of its establishment," said Ms. Hien Vu, BDM of TMG in the North region, proudly sharing. 
According to Ms. Hien Vu, 14′ Rooftop Bar is one of the best choices for organizing small group events at the end of the year because the bar space perfectly meets that requirement. Divided into two areas, with three glass sides overlooking West Lake, Truc Bach Lake and panoramic view of Hanoi's capital, 14′ Rooftop Bar ensures customers will have an extremely airy, luxurious space.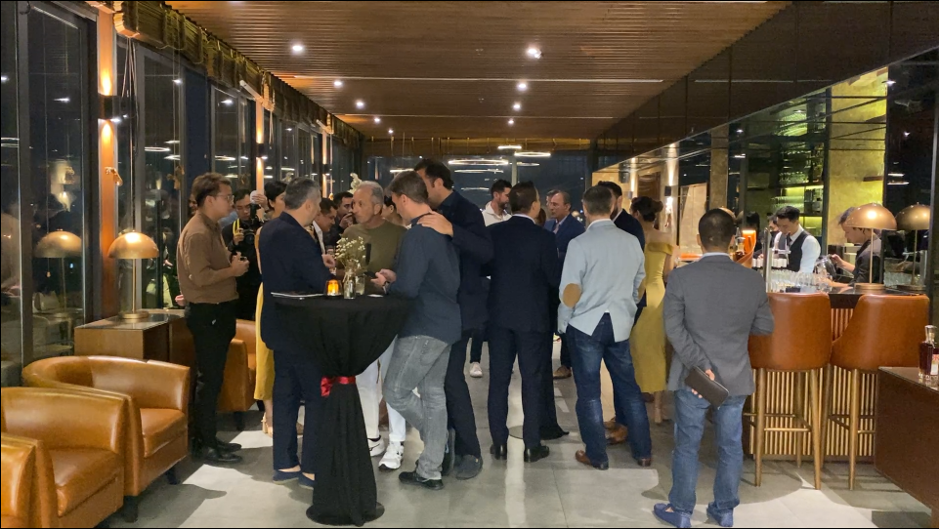 14′ Rooftop Bar boasts a private bar with professional cocktail bartenders and Asian and Western buffet menus, finger food, canapes, and especially traditional Vietnamese dishes. The talented chefs of Spice Viet, a pure Vietnamese restaurant chain of TMG, will ensure diners have a memorable event for each dish.  
In addition to the elegant space of the 14′ Rooftop Bar at Flower Garden Hotel in Hanoi, TMG also provides conference and year-end party services at all hotel and resort facilities across the country. 
"Emeraude Cruises on Ha Long Bay, Mai Chau Lodge Hotel in Hoa Binh, the 5-star TUI BLUE Nam Hoi An resort, the 4-star Victoria Hoi An Beach Resort & Spa, or at other Victoria hotels and resorts in the South. There are so many choices for you. And, of course, we have the EMM hotel chain as well. Those are all options that customers can always think of first when they need to combine party and event space with resort and tourism elements," emphasized Ms. Hien Vu. 
With luxurious space, prime location, and professional service at all hotels and resorts across Vietnam, TMG properties will always be perfect for events or conferences. Over 28 years of establishment and development, TMG has become one of the leading travel groups providing tourism and hotel services in Southeast Asia and Asia. Offering fascinating tourism products and heartfelt services, TMG prides to be a close companion that brings brilliant experiences for tourists in each itinerary.